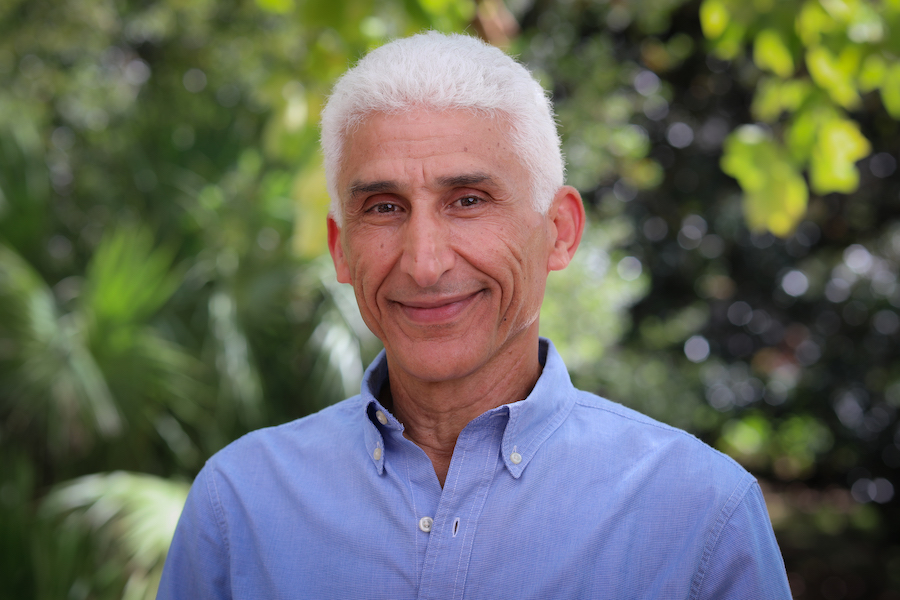 A Florida State University chemist specializing in the study of chemical reactions between materials has received a national honor for his work from the American Chemical Society, or ACS.
Hedi Mattoussi, a Distinguished Research Professor with the Department of Chemistry and Biochemistry, has been selected to receive the 2024 ACS Award in Surface Chemistry in recognition of his contributions to the advancement of surface chemistry — a branch of the field concerned with processes occurring at interfaces between phases, especially between liquid and gas forms.
"To receive this award is proof that the work you've been doing for years is appreciated and impactful," Mattoussi said. "It's satisfying in a sense. But most of all, it's nice to feel the appreciative interactions that I've had in the past few years and even the numerous messages I've received from friends here and outside the U.S. That's a wonderful feeling."
The ACS Award in Surface Chemistry was established in 1991 as the Arthur W. Adamson Award for Distinguished Service in the Advancement of Surface Chemistry, and was sponsored by Occidental Petroleum Corporation. The award was sponsored by the ACS and its various divisions from 2008-2017 and has been sponsored by Procter & Gamble since 2018. A single recipient is selected for the award annually.
Mattoussi's research at FSU focuses on understanding and tailoring the surface properties of colloidal inorganic nanocrystals — tiny, artificially-grown inorganic particles that are stabilized by a layer of surfactants attached to their surface — and determining how they can be used in various applications, including in biological imaging and sensing.
Earlier this year, Mattoussi co-authored a study published in the Journal of the American Chemical Society detailing development of a new test to detect biological markers related to several types of cancer.
"We work with various nanostructured materials, particularly with what people define as colloidal nanocrystals. These are made of inorganic cores, the hard part of the system. And they are colloidal because they have a ligand on their surfaces that allows them to float in a solution environment. In other words, if you remove that ligand, they will just aggregate and clump at the bottom of the sample," Mattoussi said.
Mattoussi's lab works to identify ways to control and optimize several key aspects of nanoparticle growth, structural and optical characterization, ligand design and surface coordination. Researchers use techniques such as photochemistry and nuclear magnetic resonance spectroscopy to characterize the surface properties of these nanomaterials and develop approaches to control their interactions with their surrounding environment as a means for energy harvesting and sensor design.
Since joining the Florida State faculty in 2009, Mattoussi has been named a fellow of the American Chemical Society, the American Physical Society, the Materials Research Society, and the Royal Society of Chemistry. He is the first member of the department to receive the ACS Award in Surface Chemistry.
"It is a well-deserved award that recognizes the exceptional contributions that Professor Mattoussi has made to the general area of surface chemistry, particularly through his creative endeavor on designing and synthesizing novel nanocrystals and creating multifunctional ligands on their surfaces," said Department of Chemistry Chair Wei Yang. "This award once again displays the excellence of faculty scholarship and the competitiveness of research programs in the Department of Chemistry and Biochemistry."
The ACS award is the latest honor for Mattoussi, whose research portfolio includes approximately 240 publications and 17 U.S.-issued patents.
"It is my pleasure to again recognize a chemistry and biochemistry faculty member by congratulating Hedi as our first winner of the ACS Surface Chemistry award," said Sam Huckaba, dean of the College of Arts and Sciences. "He is most deserving and we are proud of his accomplishments."
Mattoussi is set to accept the award at the ACS Spring 2024 Meeting and Expo, scheduled for March 17-21 in New Orleans.
To learn more about the 2024 ACS National Awards, visit acs.org/funding. To learn more about Mattoussi's work and chemistry at FSU, visit chem.fsu.edu.