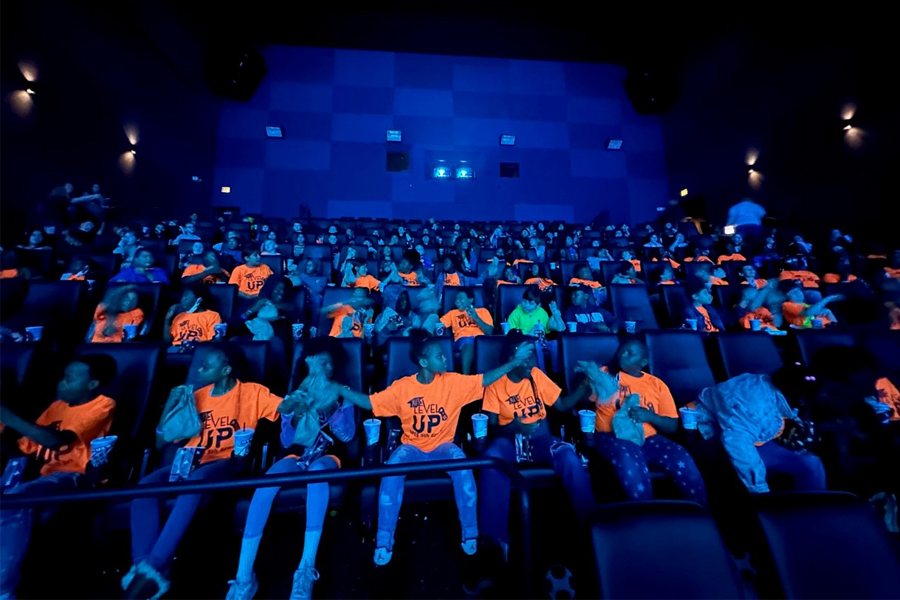 To help spark elementary school students' interest in learning about science and technology, Leon County Schools turned to an untraditional place: the movie theater.
Students from Hartsfield, Pineview and Woodville elementary schools visited the Challenger Learning Center on Friday for a screening of the "Black Panther: Wakanda Forever," the sequel to the 2018 original.
When fifth-grader Destinee Pompey watched the titular character Shuri she saw a person using science and technology to solve problems and help her society — the work of an engineer.
"It's cool," she said. "She was leading her country to be better and to protect herself and the people in her community."
The center is the K-12 outreach facility for the FAMU-FSU College of Engineering. Students from five other Leon County schools — Bond, Fort Braden, Oak Ridge, Riley and Sabal Palm —  also visited for a screening.
The movie is a sequel to the 2018 film "Black Panther," and it features Shuri, the sister of T'Challa, taking on her brother's role as the hero Black Panther and protector of Wakanda.
By making a young Black scientist its hero and showing examples of women of color mastering technology, data and science, the film expands students' ideas about who can work within STEM fields, said Jarrett Terry, a former engineer who is now an assistant vice president for academic affairs at Florida State University.
Terry spoke to the assembled elementary school students about a cartoon from his childhood that helped inspire him to pursue engineering.
"How many of you know Transformers?" he asked. "When I was your age and I saw Transformers, I wanted to become an engineer to build what I saw. We want you to take this movie and the previous movie and think about what you might want to do, what you might want to be, using math and science. Take your imagination, fuel it with what you see in this movie, and then use education to reach that dream."
In Layne Mikesell's fifth-grade class at Hartsfield Elementary School, hands-on activities help students learn about circuits and other science concepts. She is planning activities and discussions based on Black Panther for her students.
"It's cool to see all that stuff in action in the movie," said student Peter Comas.
Field trips like this one help bring classroom lessons to life, said Leon County Schools Superintendent Rocky Hanna. He thanked school board member Darryl Jones for helping organize the initiative.
"It's really cool when we can get kids to step outside of the classroom and see science in action, science in motion," Hanna said. "We're tying this experience back to STEM and to things they talk about in their classroom."
The FAMU-FSU College of Engineering is proud to support events like this that help get students excited about the world of science and technology, said Dean Suvranu De.
"Our mission at the FAMU-FSU College of Engineering is to help train the next generation of engineers, and the Challenger Learning Center is an important part of that work," he said. "By showing students the excitement and potential of STEM education, the center is helping to fulfill that mission. I hope some of the fifth-grade students who attended today will be students in our college in the future, and I can't wait to see what they'll be learning and creating."