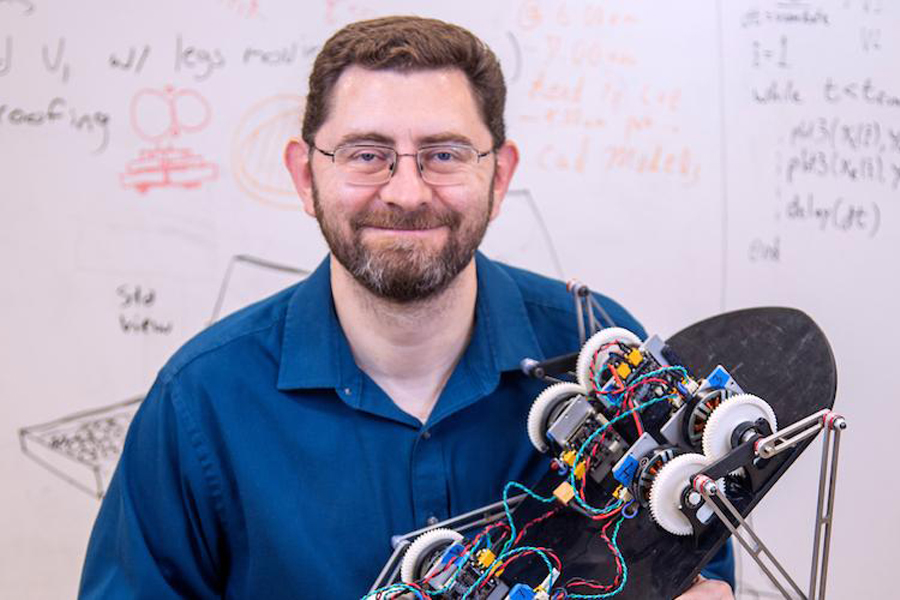 Ever watch a cockroach scurry about, with its flat armored body that slips though cracks and then flies through the air? Before you swat that pesky creature, you might want to think about the engineering feat that insect just accomplished. That's what Jonathan Clark does; it's kind of a thing for the FAMU-FSU College of Engineering associate professor of mechanical engineering.
Clark is the Director of the Center for Intelligent Systems, Control and Robotics, CISCOR, where student and faculty researchers study everything from artificial intelligence to bioengineering. It's where engineers use elements in nature to inspire design. Their most recent goal is to design a bio-inspired dynamic, legged robot that can run, jump and climb — on the surface of the moon.
"We do all kinds of robotic research at CISCOR that is inspired by the incredible versatility and agility of animals," Clark said. "For example, insect legs are sophisticated mechanisms capable of wide range of behaviors. What we do in the lab is to try to capture the essence of what they do using simple models and then implement these principles in mechanical structures. We translate biological-inspired movement to advanced robot design."
NASA has taken notice of CISCOR's bio-inspired robots and recently selected a team of FAMU-FSU College of Engineering students to design a lunar rover. A team recently competed in the NASA 2022 Big Idea Challenge against colleges across the nation and reached top seven overall. The FAMU-FSU Engineering team's bio-inspired robot design might one day walk, crawl or roll on the moon.
"Extreme conditions require extreme abilities," Clark said. "The lunar surface has rugged terrain with craters, steep slopes and layers of loose rocky material covering bedrock, all of which makes navigation difficult. So, our students are designing a four-legged lunar robot for the challenge."
The NASA BIG Idea Challenge provides undergraduate and graduate students in the academic community the opportunity to design and develop robotic systems that meet the unique challenges on the lunar surface. The competition supports the upcoming Artemis missions to establish a human presence on the moon.
"I am honored and humbled to be one of the seven teams selected to continue in the NASA Big Idea Challenge," said Derek Vasquez, a graduate student in mechanical engineering. "We have an amazing team of students and advisers who are dedicated to the project's success, and I am excited to spend the next several months with them to see this project through."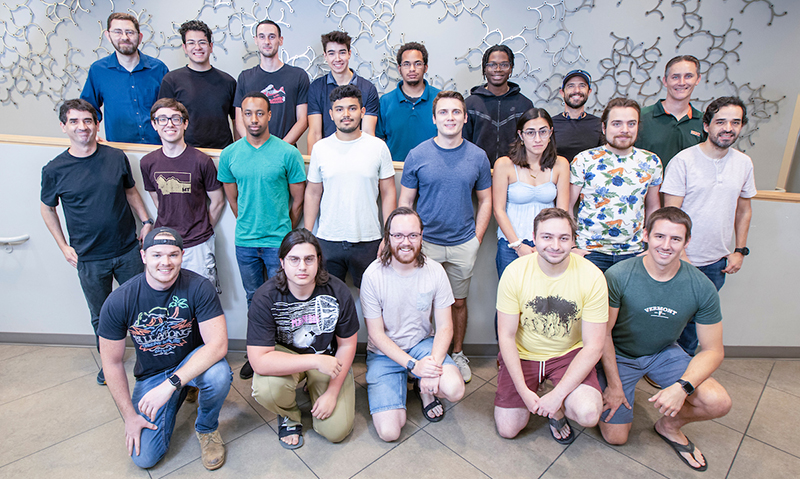 Vasquez is the team captain for the project that involves 10 graduate students and 12 undergraduate students from multiple engineering disciplines, including mechanical, electrical and computer engineering.
"There is a possibility that designs based on our robot will be sent to the moon as part of the upcoming Artemis missions," Vasquez said. "Having our robot walk on the moon is something that is incredibly exciting to us as a student team, and it motivates us to do our best each and every day."
The robot proposed by FAMU-FSU Engineering is an extreme terrain quadruped (ET-Quad). The four-legged robot has legs that allow it to climb, swim and traverse a variety of terrain. The robot will be able to complete missions that are dangerous or impossible for traditional wheeled rovers. The FAMU-FSU team has extensive experience with legged robots. Researchers at the college developed one of the fastest dynamic climbing robots and collaborated with the NASA Jet Propulsion Laboratory to develop the LLAMA robot.
"We are working over the summer to complete and test the ET-Quad robot," Vasquez said. "We will present the completed product to NASA at the Big Idea Challenge Forum in Pasadena in November."