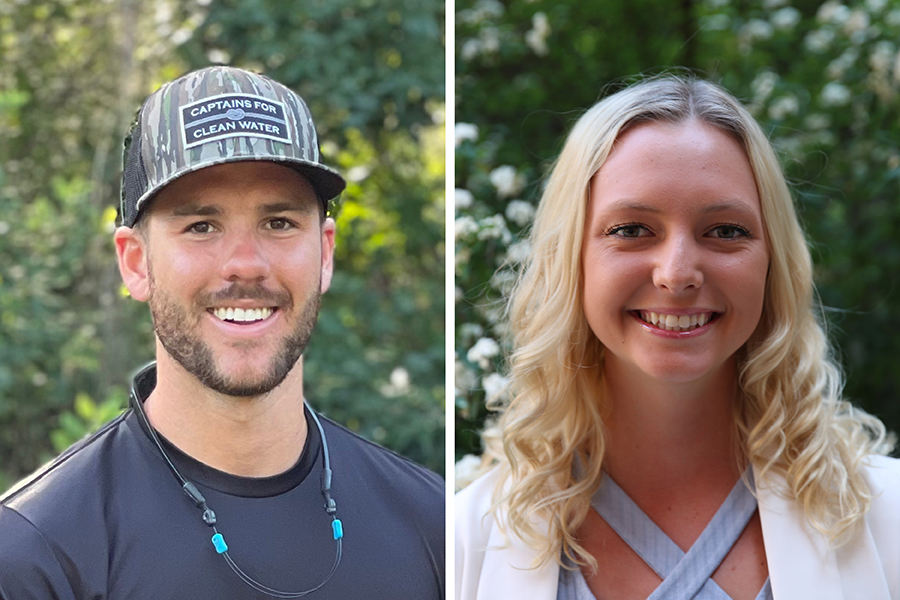 Two Florida State University students have received the Guy Harvey Scholarship Award, an honor that recognizes students from Florida colleges and universities whose research focuses on the biology, ecology, habitat or management of fish in Florida's marine environment.
Ashley Dawdy and Blake Hamilton each received a $5,000 award from the Guy Harvey Ocean Foundation, a nonprofit organization that conducts scientific research and hosts educational programs aimed at conserving the marine environment.
"We are thrilled to be able to support the cutting-edge research work that Ashley and Blake are conducting," said Greg Jacoski, executive director of the Guy Harvey Ocean Foundation. "Their work will help us better understand how sharks, rays and sawfish are utilizing their environment — information that is fundamental to conserving these species."
Both Dawdy and Hamilton are pursuing their master's degrees in Ecology and Evolutionary Biology at FSU with a focus on ecology and conservation biology. Under the mentorship of FSU Coastal and Marine Lab faculty member Dean Grubbs, both Dawdy and Hamilton's research aims to protect Florida's marine environment that is endangered or vulnerable to exploitation.
Hamilton, a fisheries ecologist, is researching the trophic and community ecology of elasmobranchs in the Apalachicola Bay System (ABS) and aims to describe the community and species-level habitat associations for large fishes. He also leads community projects aimed at monitoring the short and long-term movement patterns of the blacknose shark.
"The Guy Harvey Scholarship has contributed to my research on the movement ecology of blacknose sharks (Carcharhinus acronotus), which uses acoustic telemetry to delineate spatiotemporal movement patterns in order to inform fisheries management for this species," Hamilton said. "I intend to apply the skills I've gained from this research in my future profession to help manage natural resources."
Primarily interested in elasmobranch movement ecology, Dawdy is focusing on the social and mating behavior in the endangered smalltooth sawfish in the Florida Keys. She also studies the movement and habitat use of Atlantic cownose rays in the ABS to define their ecological role within the ecosystem.
"Receiving the Guy Harvey Award has allowed me to significantly expand my cownose ray tracking study, which will raise its potential impact factor," Dawdy said. "Being able to tag more animals will provide much more useful information regarding the movement behavior of the species, allowing for more informed cownose ray management and conservation decisions in the future."
Established in 2010 through a partnership between Florida Sea Grant and the Guy Harvey Ocean Foundation, the Guy Harvey Scholarship Award has granted 67 students more than $350,000 in scholarships.