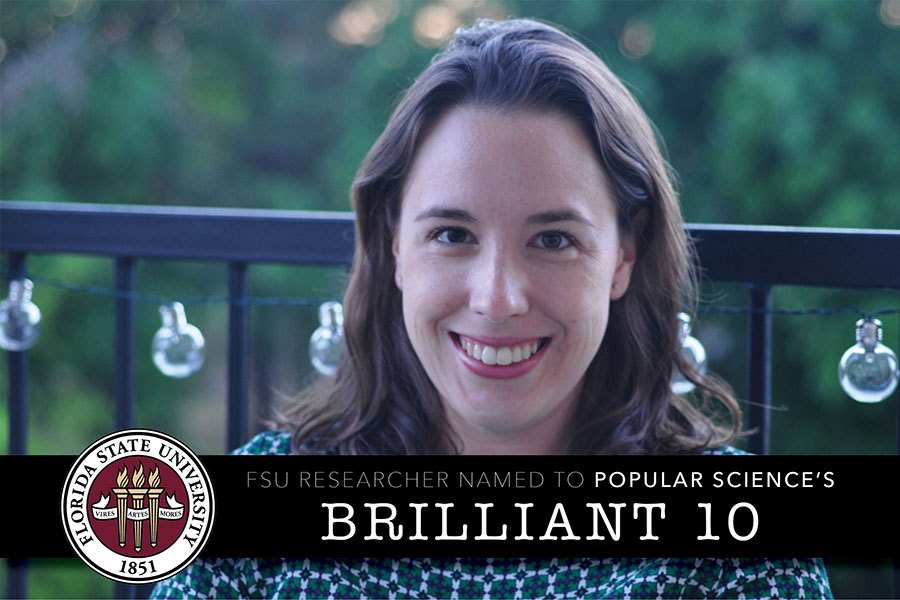 A Florida State University researcher has been named to Popular Science's Brilliant 10 list of early career scientists conducting groundbreaking research in their fields. 
Allison Wing, an assistant professor of meteorology in the Department of Earth, Ocean and Atmospheric Science, part of the College of Arts and Sciences, has been named to the list in recognition of her work on the organization of tropical convection, or the clustering of clouds and thunderstorms.  
Cloud response to warming is the biggest uncertainty in projections of future climate change, and Wing's research on the role of cloud clusters in climate, including leadership of an international intercomparison of idealized models, hopes to narrow down that uncertainty.  
"This year's hurricane season has already shown how vital work like Allison's could be in navigating the unfolding effects and challenges of climate change," said Editor-in-Chief Corinne Iozzio. "Her work to strengthen our understanding of clouds — how they behave and how that behavior impacts weather patterns — is the type of innovative thinking the Brilliant 10 was conceived to celebrate."   
Since arriving at FSU in 2017, Wing has received funding from the National Science Foundation, NASA and the National Ocean and Atmospheric Administration. Earlier this year, she was awarded a New (Early Career) Investigator Award from NASA and an Outstanding Early Career Award from the American Meteorological Society's Committee on Tropical Meteorology and Tropical Cyclones. Wing also teaches undergraduate courses in atmospheric science and mentors graduate students in tropical and climate science.  
"It's an honor to be listed alongside other incredible young scientists and engineers, and I'm grateful for the recognition of the importance of my research," Wing said. "I'm passionate about my work not only because understanding how our natural world works is fascinating and intellectually stimulating but also due to its vital importance to society." 
Continued Wing: "I wouldn't be able to make these contributions without outstanding and supportive collaborators from around the world and the dedicated students who work with me at FSU. I'm proud to be a part of an incredible community of scientists who collectively achieve and enable great innovations and leaps in knowledge of atmospheric and climate science." 
This year's Popular Science Brilliant 10 returns following a five-year hiatus, and the list highlights some of the most innovative young minds in science and engineering. Wing was selected from among hundreds of scientists across varied disciplines who are researching creative solutions to the world's most pressing problems. 
"Florida State University is blessed to have tremendous faculty across the board," said FSU President Richard McCullough. "This recognition of Dr. Wing demonstrates not only the work she has done over her past five years as a faculty member, but also the potential for her future. We are excited to see what she will accomplish and are grateful to have her here at Florida State." 
Wing's research focuses on some of the most significant unanswered questions in atmospheric and climate science, such as what controls the number of tropical cyclones around the world in a given climate. While about 90 tropical cyclones form per year, scientists don't know why it isn't instead nine, or 900, and tropical cyclone intensification remains difficult to forecast. Her exploration is crucial in creating more accurate forecasts of individual storms and considering long-term projections in a future climate.  
"Dr. Wing is an energetic talent who has quickly established a lofty reputation, and her work deserves the accolades it is receiving," said Sam Huckaba, dean of the College of Arts and Sciences. "We are very pleased to have her as a faculty member in EOAS, where her cutting-edge climate research and teaching prowess fit perfectly."   
As climate change increases the intensity of tropical cyclones, understanding cyclones and improving numerical models to simulate them are critical steps in helping people and societies prepare for these natural disasters. While investigating the organization of tropical convection, Wing studies the basic physical mechanisms controlling this organization, especially how they manifest in the formation of tropical cyclones. Using theory, idealized modeling, and analysis of observations, she explores how organized convection and tropical cyclones respond to and modify changes in climate. 
"We are excited that Popular Science recognizes the exceptional work that Dr. Wing has conducted in her short tenure as an assistant professor," said FSU Provost Sally McRorie. "It comes on the heels of her important Early Career Award from NASA. She has other important grants and has already won a University Teaching Award. Our students benefit from having her as a professor and mentor."  
A native of White Plains, N.Y., Wing earned a doctorate in atmospheric science from the Massachusetts Institute of Technology in 2014 and conducted her postdoctoral studies at Columbia University's Lamont-Doherty Earth Observatory before joining the faculty at Florida State. She earned a bachelor's in atmospheric science from Cornell University in 2008. 
Wing's research has been published in scholarly journals including Journal of Advances in Modeling Earth Systems, Proceedings of the National Academy of Sciences, Geophysical Research Letters, Journal of Climate, and Journal of the Atmospheric Sciences, among others.