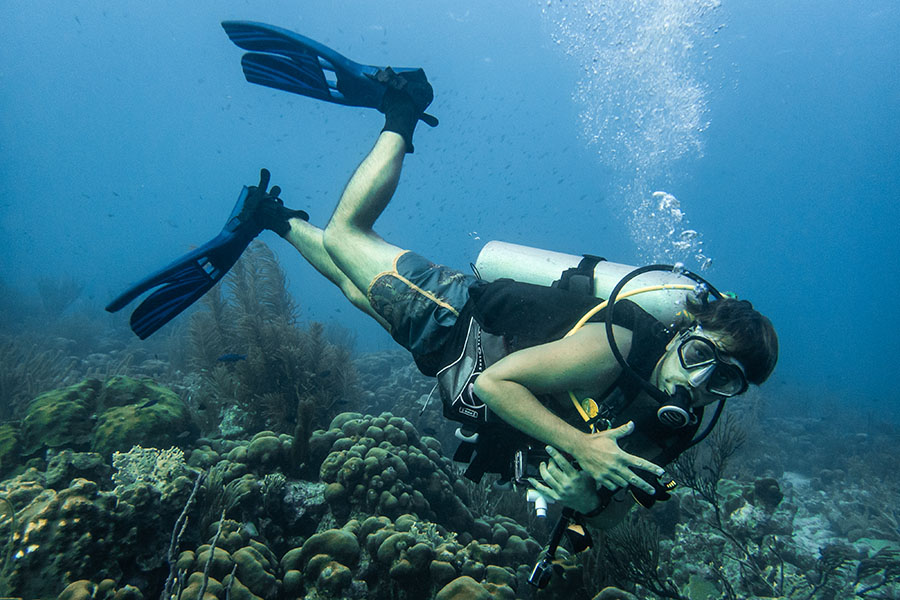 A Florida State University biological science doctoral student has received an international fellowship to study coral reefs and parrotfish in France this fall.  
Marine ecologist Joshua Manning will use the Chateaubriand Fellowship to collaborate with Simon Benhamou, CNRS Research Director at the Centre d'Ecologie Fonctionnelle et Evolutive, CEFE, the largest French research center in Ecology and Evolutionary Ecology, in Montpellier, France.  
The fellowship, established in 1981, is awarded by the Embassy of France to outstanding doctoral students from American universities and supports them in conducting research in France and working with French scientists. Chateaubriand fellows are selected through a merit-based competition, a collaborative process involving expert evaluators in both countries.  
Manning actively shares his research in both public and academic settings.  His application for the Chateaubriand Fellowship demonstrated potential for collaboration between American and French researchers and expert-level command of his subject matter – ultimately leading to Manning earning the award.  
"The Chateaubriand Fellowship is an amazing opportunity. I am excited to work with Dr. Benhamou, who is an accomplished ecologist with extensive experience studying animal movement," Manning said. "His experience and knowledge will be invaluable in helping me study parrotfishes for my dissertation and in my future research endeavors."  
Before coming to FSU to work with Assistant Professor of Biological Science Sophie McCoy, Manning earned a bachelor's degree in marine science from the University of Maine in 2013 and a master's in biology from California State University Northridge in 2017.  
"Josh is a very hard worker, especially in the field," McCoy said. "His ability to stop and observe an ecosystem or study species is unique in someone so young. He is very self-motivated and has spent considerable time consulting with other researchers about new techniques and ideas to apply to his parrotfish research."  
Manning's extensive experience working in a variety of marine ecosystems and lifelong interest in nature and science have helped propel his career forward, as has his dedication to collecting research data — he dives and snorkels nearly every day. His collaborative nature has also set him apart in his field.  
His current research on coral reef ecology and the social behaviors of Caribbean parrotfishes in the small Caribbean island of Bonaire is conducted in collaboration with two biological science interns from FSU and the American Academy for Underwater Sciences, and he looks forward to learning from French researchers during his fellowship. 
"I want to use the Chateaubriand Fellowship as an opportunity to learn from other members of the Movement, Abundance, and Distribution team at CEFE. My hope is that interacting with CEFE's upper-level ecologists will lead to additional opportunities for collaboration as I move forward in my academic career," Manning said.  
Manning has received several awards supporting his research, including the Florida Sea Grant's Guy Harvey Scholarship Award, a Lerner-Gray Grant for Marine Research from the American Museum of Natural History, a Phycological Society of America Grant-in-aid of Research, and a Society for Integrative and Comparative Biology Grant-in-aid of Research, among others.  
After completing his doctorate, Manning plans to continue his research into coral reefs and pursue a teaching career in academia.