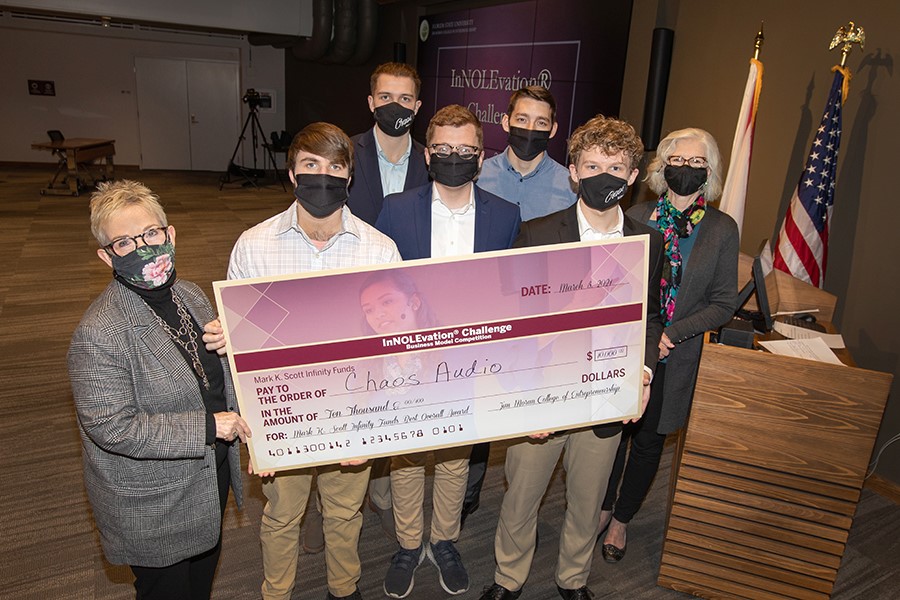 A team of six students from FSU's Panama City campus took home the $10,000 Mark K. Scott Infinity Funds first-place prize at the 2021 InNOLEvation Challenge March 5.
Chaos Audio earned the top honor for their wireless, all-in-one, multi-tool, guitar pedal which they've named the Stratus. 
"Chaos Audio has done a great job creating a team with diverse skill sets," said Wendy Plant, director of the InNOLEvation Center for Student Engagement at the Jim Moran College of Entrepreneurship. "Each one of them has a distinct role to play in the business, and they have all learned to stay focused on what is best for the company. It is rare to see a large team of undergraduate students who work so well together."  
Winning team members are Landon McCoy, a junior electrical engineering major from Panama City Beach, mechanical engineering majors Robert Copsey and Cameron Jones, electrical engineering majors Armis Sunday and Tiffany Carter, and recent computer engineering graduate Sam Lamb.
McCoy said he and his teammates were incredibly excited and that a lot of hard work had gone into preparing for the competition.
"The competition itself was very fun and exciting," he said. "We practiced a ton. The whole previous week was nothing but practicing our presentation. We even had a practice panel of judges." 
McCoy praised his InNOLEvation competitors and said Chaos Audio plans to use the prize money to cover costs related to licensing and manufacturing and tooling costs. 
"It helps us stay on track with our estimates. We are super excited about it," he said of the win. 
Eight finalists pitched before a panel of judges Friday, March 5, and Chaos Audio took the top honor.
Chaos Audio's Stratus is an intelligent, all-in-one stomp box and multi-tool for guitarists. The audio effects market has a gap in customer demand between versatility and affordability. Amateurs and enthusiasts are faced with the problem of choosing between economy products with limited functionality, or high-end products with large price tags. Stratus is economically positioned against alternative products while providing a suite of versatile tools and a modular effects platform that they lack.
The annual InNOLEvation Challenge provides students from all majors and all grade levels with the opportunity to gain valuable insight and experience in innovation and entrepreneurship.
This business model competition focuses on identifying problems and potential solutions, building effective teams and precisely defining the assumptions of a new venture, testing those assumptions in the field, and then pivoting based on the lessons learned. The entire competition took place over two semesters with students submitting parts of the business model canvas along the way.
Other prize winners are:  
$4,000 Jim Moran Challenge Social Venture Award – ReSAUCEUL 
$4,000 Spirit of Entrepreneurship Award – Manser & Edbrooke Technology Inc.
$4,000 Most Viable Award – Dunsel's
$4,000 Most Scalable Award – MediKool
$4,000 Most Innovative Award – Zing
$500 Finalists – StayingIn and M.E.N.D.