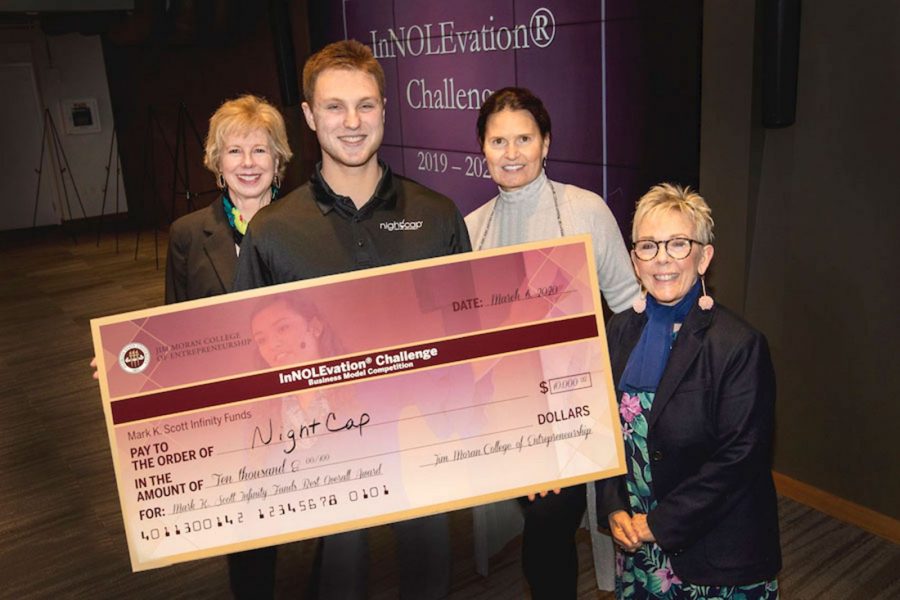 A Florida State University graduate student will appear on ABC's Shark Tank next week.
Michael Benarde is the winner of the Jim Moran College of Entrepreneurship's 2020 InNOLEvation Challenge Business Model Competition.
A native of West Palm Beach, Benarde graduated last year from Florida State University with his bachelor's degree in political science, and he is currently enrolled in FSU's MBA program in the College of Business.
On the Feb. 5 episode of Shark Tank, Benarde will pitch his product, NightCap, the "drink-spiking prevention scrunchy," a flexible cover that fits over glasses to prevent cocktails from being spiked. 
Benarde said his journey to Shark Tank began at the Jim Moran College.
"Participating in and winning both the Jim Moran microgrant and the InNOLEvation  Challenge gave us the resources and experience we needed most in NightCap's earliest stages," he said. "Without them it's unlikely we would have been able to make it this far and have a once-in-a-lifetime opportunity to pitch in the Shark Tank."
Benarde added: "The practice pitching and public speaking in those events gave me the confidence that I needed to go on and do it again on the world's biggest stage."
NightCap got off the ground when Benarde came to the InNOLEvation ® Center for Student Engagement with an idea for a product that his younger sister, Shirah, shared with him. She had been concerned after learning of the prevalence of women having had their drinks spiked. Shirah took one of her mother's pairs of panty hose and fashioned a drink cover that would fit into a scrunchie that women could wear on their arm or in their hair. 
At JMC, Benarde received mentorship as well as a $5,000 microgrant to help with customer discovery and to turn the prototype into a viable product.  In addition, he won the $10,000 first place prize in the InNOLEvation ® Challenge, the Turkey Tank competition pitting FSU students against students from the University of Florida, and the Tallahassee Startup Week pitch competition.  
Benarde returned to JMC this fall to share his story at the annual 7 Under 30 event, during which seven FSU alumni share their stories about starting businesses before turning 30 years old.
Susan Fiorito, founding dean of the Moran College, said she was thrilled for Benarde and the team at the college.
"The Jim Moran College of Entrepreneurship is so very proud of Michael and all his hard work," she said. "The mission of the JMC is to inspire, instill and ignite the passion of student ideas from across campus. Michael clearly took advantage of every opportunity through faculty mentoring and the use of the JMC incubator space for him to grow and promote his idea and product. We wish him every success."
NightCap now has more than 100,000 followers on TikTok as well as a large Instagram and Facebook following, and it has sold more than 10,000 units.  
For more information on student startup competitions sponsored by the Jim Moran College, visit jimmorancollege.fsu.edu.