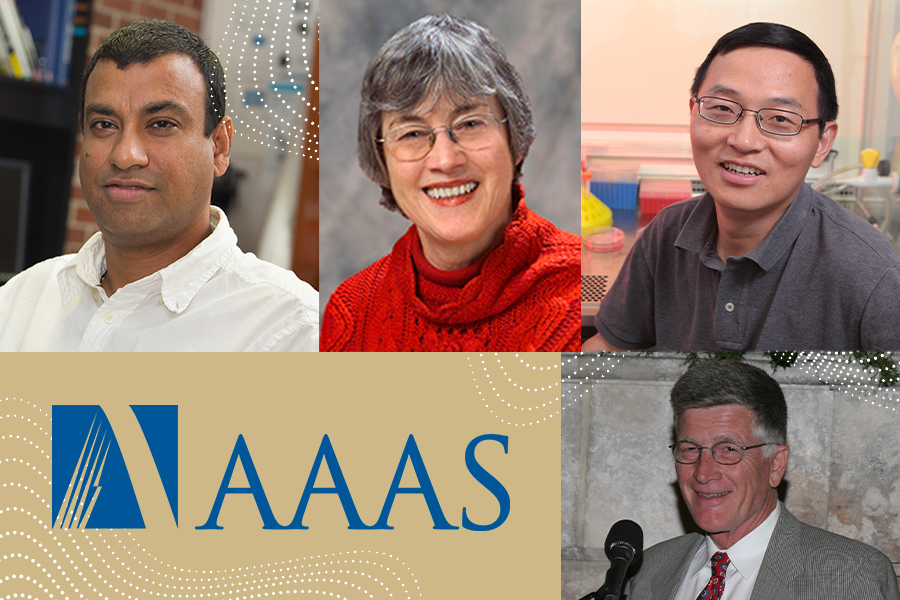 Four Florida State University researchers have been named fellows by the American Association for the Advancement of Science in honor of their work advancing science or its applications.
The four faculty members are Professor of Psychology Elaine Hull, Professor of Statistics Anuj Srivastava, Robert O. Lawton Distinguished Professor of Biological Science Walter Tschinkel and Professor of Biological Science Fanxiu Zhu.
"These four faculty members have demonstrated their commitment to top-notch scholarship while also mentoring and teaching students both at the undergraduate and graduate levels," Vice President for Research Gary K. Ostrander said. "We are so pleased that AAAS has recognized them for their work over their stellar careers."
The AAAS bestowed the rank to 489 of its members this year for work deemed scientifically or socially distinguished. The new fellows will be presented with an official certificate and a rosette pin to commemorate their election and their names will be published in the journal Science.
"I salute this year's recipients for building a record of excellence substantial enough to earn this distinction," said College of Arts and Sciences Dean Sam Huckaba. "AAAS has a long history, and we are proud of our colleagues for being invited to join this distinguished group of fellows."
This year's FSU honorees are:
Elaine Hull, professor of psychology and neuroscience, is being recognized for her research on the neuroendocrine control of male rat sexual behavior, including the role of dopamine and glutamate in the medial preoptic area of the brain in sexual experience. This area of the brain is essential for male sexual behavior in all vertebrate species that have been studied, from fish through humans.
Anuj Srivastava, professor of statistics and distinguished research professor, is receiving the honor for his work in the field of statistical pattern recognition, particularly for development of differential geometric approaches to statistical shape analysis.
Walter R. Tschinkel, Robert O. Lawton Distinguished Professor of Biological Science, is being honored for distinguished contributions to the field of experimental behavioral ecology and sociobiology, particularly chemical ecology, sociometry, sociogenesis and unraveling the complex natural history and nest architecture in ants.
Fanxiu Zhu, professor of biological science, is receiving the honor for advances in the understanding of viral evasion of host antiviral innate immune responses, signaling pathways and viral genes in the Kaposi sarcoma-associated herpes virus (KSHV).
The AAAS is the world's largest multidisciplinary scientific society with a global membership spread across 91 countries. The tradition of electing AAAS Fellows began in 1874. Since then, thousands of distinguished scientists have been awarded the rank of fellow, including inventor Thomas Edison (1878), anthropologist Margaret Mead (1934) and computer scientist Grace Hopper (1963).
Areas in which nominees may have made significant contributions are research; teaching; technology; services to professional societies; administration in academia, industry, and government; and communicating science to the public.