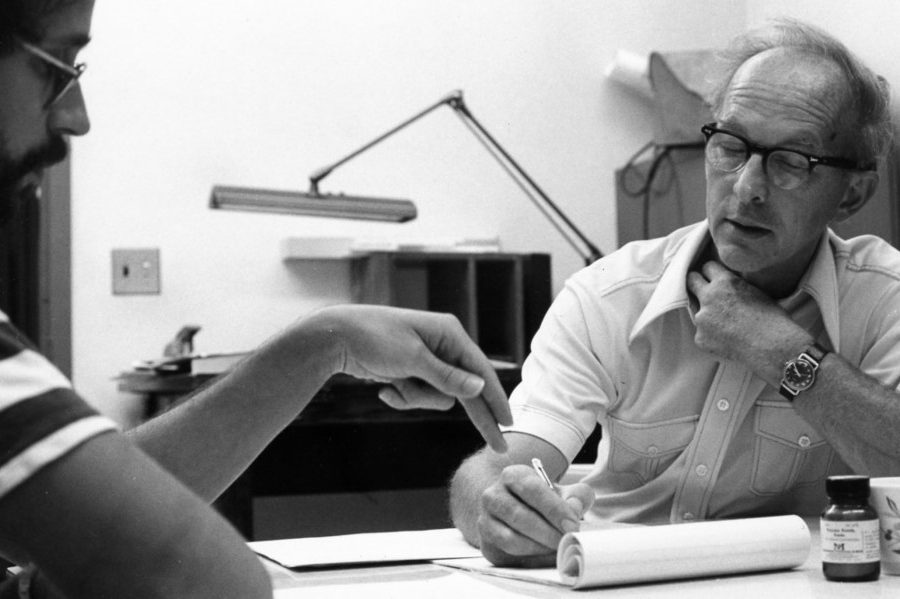 A group of Florida State University graduate students have been selected to present "Illuminating the Field of Photophysics: 100 Years of Michael Kasha," a symposium at the American Chemical Society's national meeting, celebrating the former FSU professor who was one of the world's foremost photochemists.
It is the first time FSU students have been chosen to serve as the Graduate Student Symposium Planning Committee (GSSPC) for the ACS national meeting, which will take place in Atlanta in Fall 2021.
Kasha joined the Florida State faculty in 1951, where he served as a teacher, researcher and mentor until his passing in 2013 at the age of 92. Dec. 6, 2020, marks the 100th anniversary of Kasha's birth and second-year chemistry graduate students Ashley Arcidiacono and Carl Conti seized on a perfect opportunity to recognize his achievements and the remarkably broad impact of his work.
"We've been thinking about the role that Florida State has had in establishing the field of photochemistry and at the head of that is Michael Kasha," Arcidiacono said. "This would have been his 100th birthday, so we thought it would be a great time to celebrate him and everything he's brought to the field of chemistry."
Kasha is one of the key founders of modern photochemistry and molecular spectroscopy, as well as a beacon of cross-disciplinary research, who strived to connect chemistry, biology, physics and even art. He made long-lasting impacts on many aspects of the scientific community.
In 1944, Kasha and Gilbert Lewis were the first to demonstrate that the triplet state was the origin of long-lived emission. Subsequently, he showed that spin-orbit coupling could facilitate singlet to triplet intersystem crossing, which is now referred to as the "heavy-atom effect" or the "Kasha Effect." He is also the namesake for "Kasha's rule," where in 1950 he stated that emission only occurs from the lowest energy state of a molecule.
Arcidiacono and Conti are co-chairing the committee of eight FSU graduate students.
"We also are in a perfect position as second-year graduate students to call upon our fellow students from across the department with lots of different points of view," Arcidiacono said. "Carl and I do a very specific type of photochemical research, but those are still only two fields. What this symposium covers is just extraordinary."
GSSPC groups are given full autonomy in planning an ACS national meeting symposium, including topic selection, fundraising, speaker recruitment and logistical arrangements. FSU's group of graduate students will need to raise about $30,000 to pay for the committee's travel, a large reception following the all-day symposium and undergraduate travel awards for students invited to present at the poster session.
"For graduate students, there tends to be a narrow focus on doing your research and publishing papers," Conti said. "But we all know there is a lot more to succeeding in any field than just concentrating on your specialty. Through this symposium, we're learning how to make connections, how to organize large events and how to fundraise effectively."
The planning committee has scheduled 11 speakers for the symposium, including four who have FSU ties. FSU Professor of Chemistry Jack Saltiel is a former colleague of Kasha. Saltiel's mechanistic studies have earned him worldwide recognition as the foremost authority on photoisomerization (i.e. using light to change the structure of a molecule). Also speaking will be Ken Hanson, an associate professor in the Department of Chemistry & Biochemistry at FSU.
"I am ecstatic that graduate students took the initiative to organize this Kasha symposium," Hanson said. "More than a half-century after his seminal work, we, and photochemists/physicists from around the world, still rely on Kasha's contributions on a daily basis. It is an honor and a privilege to be involved in celebrating the breadth and depth of his impact."
Other speakers include Kirk Schanze, professor and Robert A. Welch Distinguished University Chair in Chemistry at the University of Texas at San Antonio, who graduated with a bachelor's degree in chemistry from FSU and served as Saltiel's undergraduate assistant. And Brant Watson, who earned his doctorate at FSU, is a former post-doctoral student from the Kasha group and is currently a faculty member in the Department of Neurology at the Miller School of Medicine at the University of Miami.
"We're drawing in a lot of support from the FSU community and trying to emphasize the footprint that this department has left and continues to leave on the field of photophysics and photochemistry," Arcidiacono said.
The Graduate Student Symposium Planning Committee (GSSPC) was created in 2005 to facilitate ongoing involvement among graduate students in planning symposia at ACS national meetings. Student groups are chosen from a university to produce quality symposia, co-sponsored by the ACS Division of Chemical Education (CHED), of interest to the chemical community.
For more information, visit https://www.fsugsspc.com or follow the GSSPC on Twitter at @fsugsspc.