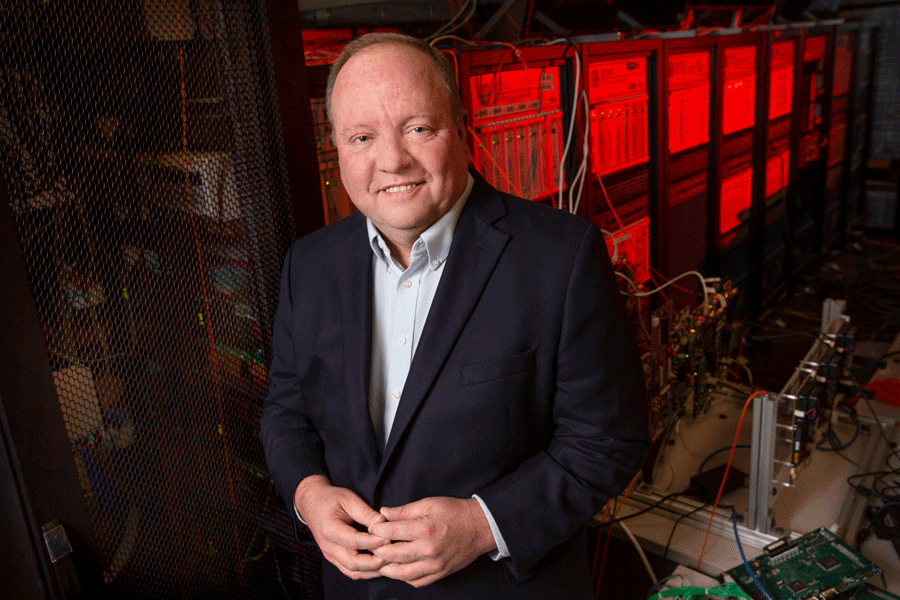 For most of his career, Roger McGinnis was a military man.
As a captain in the U.S. Navy, he gave orders. No debate.
Now, as director of Florida State's Center for Advanced Power Systems, he's captaining a different kind of ship. In his role, McGinnis oversees 35 faculty and staff, plus 55 graduate and undergraduate students, who are working on a variety of projects ranging from helping the Navy build an all-electric ship to creating sophisticated electrical testing technologies.
"I knew of CAPS from my work in the Navy and was really excited about the work they were doing," McGinnis said. "When a colleague suggested I apply for the opening, it seemed too good to pass up."
McGinnis came to Florida State in 2014, replacing  Steinar Dale, who retired after 11 years as director. It was a major switch for McGinnis who spent 24 years in the Navy and then worked for the Office of Naval Research and the Department of Homeland Security.
In the five years that McGinnis has been at CAPS, he's presided over both physical and financial growth at the center. When McGinnis arrived, the center was facing a desperate need for grant money to continue its work building power-testing systems and other innovative power-related technologies.
Since then, CAPS researchers netted a five-year $35 million grant from the Office of Naval Research to continue to work on the all-electric ship as well as several other grants on different projects. CAPS also became the first university test site accredited by the U.S. Navy to perform high-powered simulations as the center develops next-generation shipboard power technology.
Annually, the center receives about $10 million per year in external grants and contracts.
"Financially we weren't doing well," he said. "We had to start putting out a ton of proposals. Now the problem is we have more work and need to hire more people."
Gary K. Ostrander, the vice president for Research, said McGinnis' Naval experience made him an ideal fit for the position at CAPS.
"He understands the organization of his unit at FSU and in particular how it relates to the Navy," Ostrander said. "The Navy is the primary funder of CAPS, and Roger's prior experience with the Navy has been tremendously valuable to CAPS and FSU."
Working at an academic center is a bit different from the Navy though.
In the Navy, McGinnis often trained young men. The researchers at CAPS, he said, do not need training. He sees his job there as keeping the ships running on time so to speak — providing contacts for faculty and staff and ensuring they have what they need to do their jobs the best way possible.
"Being in uniform is like being participating in a team sport where the coach or quarterback calls the play," McGinnis said. "In academia, the principal investigator is the smartest in their area. They have contacts and ideas. They know what they want to do. You don't need to order them around."
Mischa Steurer, a researcher at CAPS who develops testing models for high-powered technologies, said McGinnis cares deeply about the people who work at the center.
"Roger has a very good sense for people's personal needs in the workplace," Steurer said. "He balances well between creating a comfortable work environment for everyone and being assertive when necessary."
McGinnis graduated from Georgia Tech on Dec. 10, 1982, received his Naval commission the next day and was married six months later. He spent the following several years on Naval ships based out of Jacksonville, Florida and Charleston, South Carolina.
After a few years, he opted to attend graduate school at the Naval Postgraduate School in Monterrey, California, where he received a master's degree in electrical engineering. He worked at the Department of Defense after receiving his degree, but found that he missed school and wanted to earn a doctorate.
He planned to pursue a doctorate in electrical engineering but took a hard turn to physics.
"I went to a discussion on the airborne laser program," he said. "And I thought 'well that sounds cool.' So I switched to physics."
In D.C., McGinnis worked in both the Office of Naval Research and the Department of Homeland Security, overseeing large-scale research priorities. When Dale announced his retirement, a colleague suggested McGinnis apply for the job at CAPS. McGinnis, who had grown up in the south, was eager to return to his roots and felt invested in CAPS' mission.
He was a perfect fit.
"We had a committee of faculty members for the hiring, and he was their No. 1 choice," Ostrander said. "I thought there would be some debate about the possible candidates, but no. Every single one of them wanted Roger."
With five years under his belt, McGinnis is bullish about CAPS' future.
Right now, CAPS is expanding its physical footprint, constructing a new 6,400-square foot power systems facility that will also have high-voltage laboratories. McGinnis hopes to double the size of that building in the years to come. He's also looking at diversifying the center's funding portfolio and hiring additional faculty.
"Even if we just did one of these things, it would mean a lot of growth for CAPS," he said. "We're excited for the future."