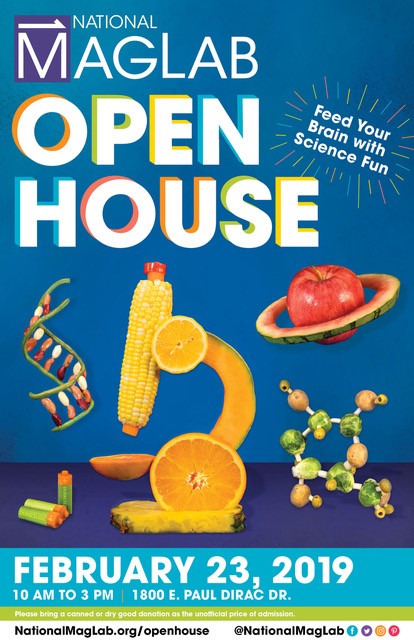 For some, science is an acquired taste. The National High Magnetic Field Laboratory invites those folks, along with STEM fans of all ages across the Big Bend, to its annual Open House on Saturday, Feb. 23. There, science of every flavor will be available for sampling, from strawberry DNA to flying potatoes and from pickle power to melting marshmallows.
From soup to nuts, more than 100 hands-on science activities will fill the halls of the world-class lab, which is headquartered at Florida State University and where thousands of scientists travel every year to conduct experiments using the unique, record-strong magnets.
Dozens of this year's activities and exhibits are themed around food, including "Vegetable MRI," "Edible Colors," "The Freshness of Beer" and "The Molecules We Eat." Activities are designed to appeal to a wide range of ages and science backgrounds.
"We like to change up the theme every year," said MagLab Public Affairs Director Kristin Roberts. "It's a way to bring fresh energy to a recurring event, introduce different demos, and attract new partners and audiences who haven't discovered the MagLab yet."
The largest science event in the region, Open House attracts upward of 8,000 visitors and keeps on growing. Several other nearby FSU-affiliated institutions are also opening their doors that day, including the FAMU-FSU College of Engineering, the Center for Advanced Power Systems, the High-Performance Materials Institute and the Florida Center for Advanced Aero-Propulsion.
This year, it will be easier than ever to fit in several Open House venues thanks to free trolley rides sponsored by Innovation Park. Other sponsors are Prime Meridian Bank, Jimmy John's, Duke Energy, Quantum Design, Valic, the Tallahassee-Leon County Office of Economic Vitality and Publix.
With numerous local food trucks on site, there will be nourishment for the body as well as for the mind.
"Come one, come all — and bring your science appetite!" said the lab's big cheese — aka Director Greg Boebinger.  "Open House is a blast. I've been coming for more than a decade and I still learn and see new stuff every year. And it's all free."
Free food for the brain, multiple helpings encouraged. Smart cookies will come early (doors open at 10 a.m.) to cram in as much all-you-can-eat science as their brains can hold.