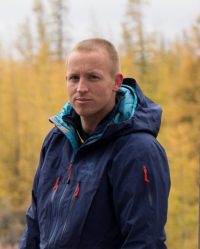 Florida State University Associate Professor of Oceanography Robert Spencer has received the Yentsch-Schindler Early Career Award from the Association for the Sciences of Limnology and Oceanography for his significant contributions to our understanding of global biogeochemical processes.
The annual award, initiated by ASLO in 2012, honors early career aquatic scientists who have made outstanding contributions to research, science training and broader issues such as resource management, conservation, policy and public education.
Spencer arrived at Florida State's Department of Earth, Ocean and Atmospheric Science in 2014 after serving as an assistant and associate scientist at the Woods Hole Research Center in Massachusetts. He received his doctorate in biogeochemistry from the University of Newcastle-upon-Tyne in 2006.
"I'm extremely honored to receive such a prestigious award and sincerely appreciate all the support from my colleagues both at FSU and throughout the world without whom this would not have been possible," Spencer said.
Spencer investigates the production, fate and transport of organic matter through terrestrial, freshwater and marine environments. Using advanced organic matter characterization techniques, he's conducted critical research in some of the world's most isolated areas — from examining organic carbon released by glacial melting and permafrost thaw to exploring the effects of land conversion on carbon export in watersheds like the Amazon and Congo. His work has helped clarify the influence of human activity on these important biogeochemical processes.
Spencer has published more than 100 manuscripts in peer-reviewed journals, which have amassed more than 6,300 citations to date.
Beyond his accomplishments as an intrepid and prolific researcher, Spencer was honored for his dedication to teaching and mentorship. He has engaged in countless international collaborations and often provides unique opportunities for students to conduct research abroad.
"The scope of Rob Spencer's accomplishments is impressive, especially for someone so early in his career," said ASLO President Michael Pace. "In addition to all that he has achieved in the field and classroom, Rob is an active member of several scientific societies, including ASLO. His service to ASLO was recognized last year when he was named an ASLO Fellow. We are pleased to honor his research on organic matter this year with the Yentsch-Schindler award."
Founded in 1936, ASLO is the leading professional organization for researchers and educators in the field of aquatic science. The organization, which has a global membership of more than 4,000, seeks to foster a diverse international scientific community, create and communicate knowledge across the spectrum of aquatic sciences, advance public awareness and education and promote scientific stewardship of aquatic resources.