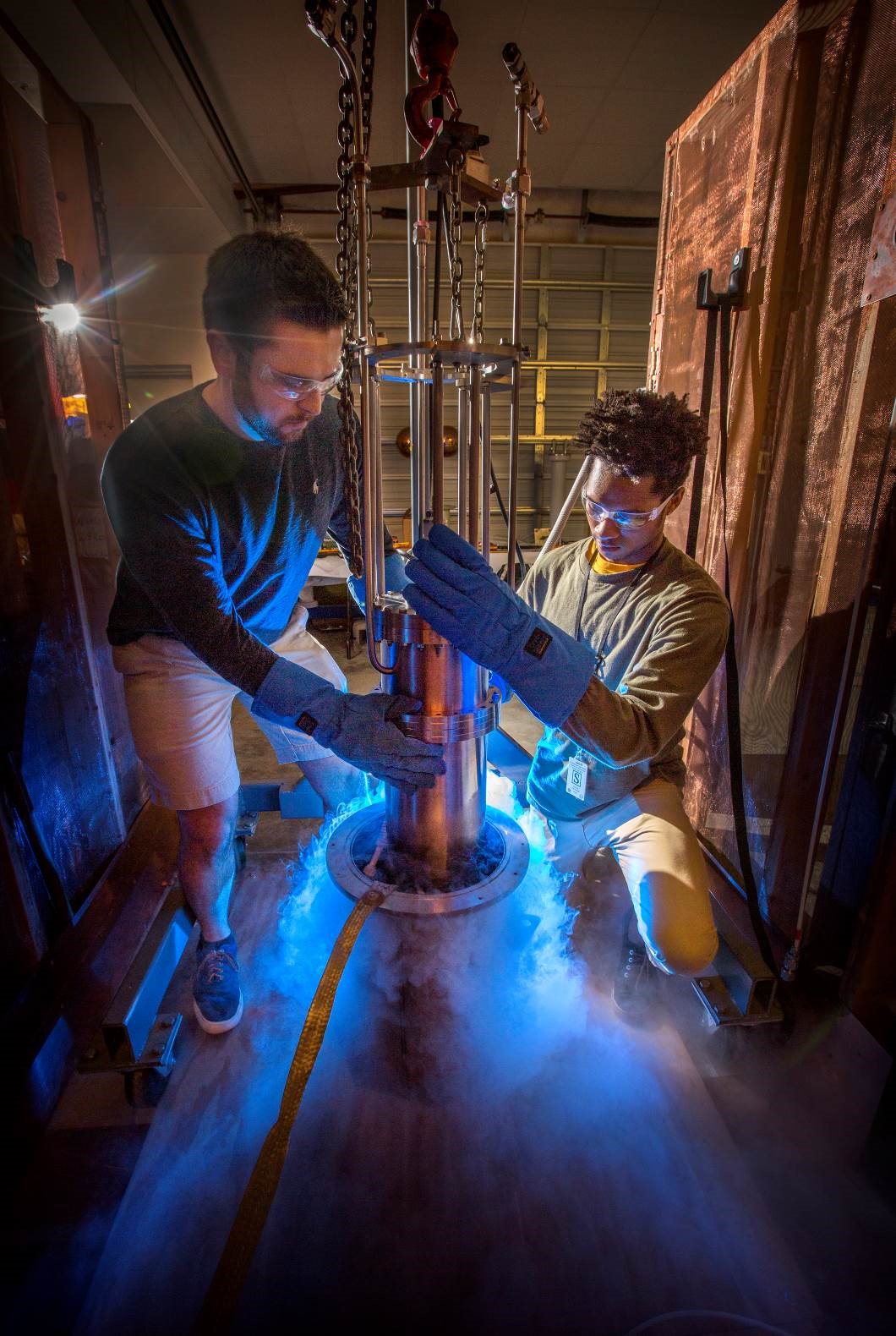 Undergraduate students across the country often get the chance to help a favorite professor with research. But few get the experience that Taylor Stamm had in working with Florida State University's Center for Advanced Power Systems.
Over five semesters as a research assistant at CAPS, he's helped develop superconducting cables, performed high voltage testing, set up experiments to calibrate cryogenic temperature sensors and much more.
"Most universities just have research labs where students work," said Sastry Pamidi, associate director of CAPS and professor and chair of the FAMU-FSU College of Engineering's Department of Electrical and Computer Engineering. "Most of them do not have advanced research facilities like we have at CAPS that are accessible to undergraduate student researchers."
CAPS is a Florida State research center dedicated to advancing the creation and testing of state-of-the-art power systems technology that is used in research projects such as an all-electric ship for the U.S. Navy, research on superconducting systems for electric aircrafts and more sustainable electric grids.
The center includes an advanced real time digital simulator, high temperature superconductivity research facilities and cryogenic dielectrics laboratories, energy conversion research labs, power electronics development facilities, cyber physical systems research and a thermal management systems lab. Professors and full-time researchers working in these areas engage undergraduate student researchers.
"My work here at CAPS has helped me develop a much deeper understanding of the coursework given to me at FSU and has taught me how to use various hands-on tools to develop research from the ground up," said Stamm, a senior electrical engineering major in the FAMU-FSU College of Engineering. "Not only have my grades risen because of this deeper understanding, but I also have gained practical knowledge and experience not normally obtainable through classes alone that I can take with me into my jobs in the future."
CAPS typically engages five to 10 undergraduate interns each semester and about 20 during the academic year, said Pamidi. Most of them are FAMU-FSU College of Engineering students, but there are also students from physics, chemistry and computer science. The unparalleled experience allows students to develop their interests in science, technology, engineering and math, while also providing real-life problems for them to solve.
"The first thing it does is give them a taste of research," Pamidi said, "But they also learn critical thinking and problem solving skills, not from books, but from real-life experiments. They learn communication skills because they work in research teams."
In Stamm's case, he worked with a team of researchers including Pamidi and two research faculty members, Peter Cheetham and Chul Kim. Through this experience, Stamm had the opportunity to become a co-author on two research publications.
The experience is valuable on-the-job training, Pamidi said.
And because CAPS partners frequently with industry, working there allows students to network with professionals who visit the center.
"These students become part of our team," Pamidi said. "So when industry folks come to CAPS and meet our students, they are very impressed. Those students get job offers from our industry partners and advisory board members. Our undergraduate researchers go to graduate school and will have a head start because of their research experience."
Stamm, who will pursue a master's degree at the FAMU-FSU College of Engineering, has already completed an internship at Duke Energy and will work at Northrop Grumman next summer.
"I could not be more appreciative of my research experience here at CAPS, and I recommend to any undergraduate student to pursue research; even volunteering to work for free for a semester," he said. "The experience alone will pay off: nearly every employer I have talked to during career fairs have been impressed with the experience I have gained through assisting with research."