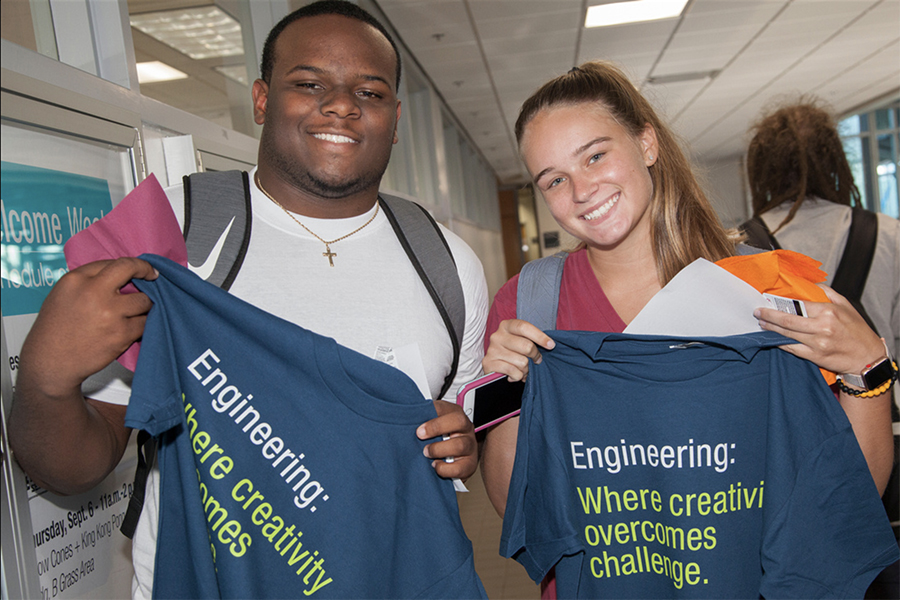 First-year engineering students filled the halls of the FAMU-FSU College of Engineering this week, ready for their first introduction to engineering in the classroom.
Students have the opportunity to take a first-year Engineering course during their first or second semester in college, where they learn about different engineering majors, get acclimated to the joint college, and learn about services offered and degree requirements.
"This course is where students start developing relationships with their engineering peers, faculty and staff," said Michelle Rambo-Roddenberry, associate dean for Undergraduate Affairs and Student Services.
The course exposes aspiring engineers to the principles of the field and helps prepare them for their future, as well as introduces them to the unique culture and campus of the FAMU-FSU College of Engineering.
Florida A&M and Florida State universities share an engineering college, as created by a special act of the 1982 Florida Legislature.  For the next several years, these students from FSU and FAMU will take engineering classes together at the Innovation Park campus and graduate from their home university with a degree from the joint college.
"The students are the winners here," College of Engineering Dean J. Murray Gibson said of the unique college's structure. "The additional resources and funding that results from the collaboration gives students access to facilities and research they wouldn't otherwise have."
More than 420 new engineering students started classes this week.