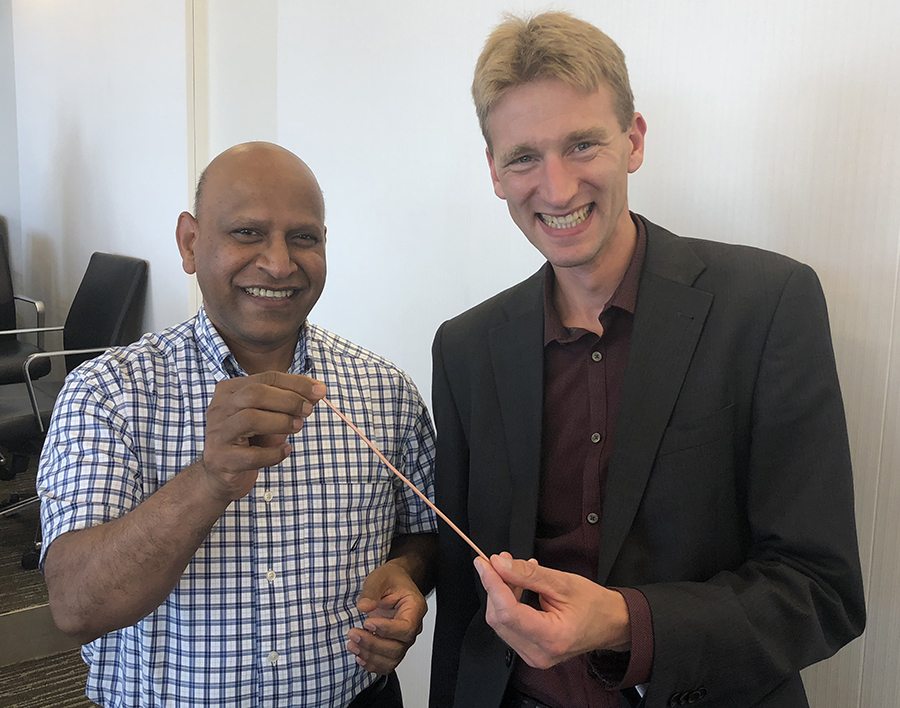 Florida State University's Center for Advanced Power Systems and the Colorado-based Advanced Conductor Technologies LLC are taking a big step in the world of superconductor technology that could have major implications for naval, aviation and power grid applications.
Through a grant program that encourages private industry to partner with university scientists, a research team from CAPS and ACT worked together to demonstrate the first high-temperature superconducting direct current power transmission cable using ACT's Conductor on Round Core (CORC) cable technology. These cables enable transmission of vast amounts of power at high currents that could be used to fuel power grids or help operate an all-electric ship.
"The demonstration is an exciting development and a significant leap forward in achieving the required high-power densities in shipboard power transmission," said FAMU-FSU College of Engineering Professor and Associate Director of CAPS Sastry Pamidi. "CAPS has been developing the cryogenic helium gas circulation technology and superconducting power applications and established the state of the art research facilities and supports ACT and other businesses to move the technology forward."
The two-pole direct current power transmission cable was formed by twisting two 10-meter long monopole CORC cables together. The cable was cooled by pressurized cryogenic helium gas circulation and tested at currents exceeding 4,000 amperes.
These cables are a major improvement on the current technology because they are much thinner, and thus smaller and lighter than other high-temperature superconducting cables.
Advanced Conductor Technologies, located in Boulder, Colorado, focuses on the commercialization of CORC cables for the next generation of fusion and accelerator magnets and for power transmission applications.
"It's been extremely exciting to develop CORC power transmission cables into a working prototype," said Danko van der Laan, ACT's founder. "We had to overcome some technical challenges related to pressurized helium gas operation at high currents, but, in the end, the cable system worked the first time."
The CORC power transmission cable was developed by ACT and tested at CAPS as part of an ongoing collaborative program funded through a Small Business Innovative Research (SBIR) grant from the U.S. Navy. SBIR grants encourage businesses to find university partners to conduct high-level research. CAPS conducts research on advanced modeling and simulation of electric power systems, advanced controls, power conversion equipment and high temperature superconducting devices.
CAPS has also long partnered with the U.S. Navy in developing technologies that would support an all-electric ship.
"This successful test is a major step forward in the development of power cables that will permit integration of high power/high energy systems on future ships," said CAPS Director Roger McGinnis. "The size and weight reduction the CORC cables bring to the system will permit installation of the new sensors and systems onto many more classes of ships than current cable technology would permit."
The Navy has significantly ramped up its efforts to develop superconducting cables over the past decade. Increasing electric power needs on Navy ships demand more efficient means of transmitting the power equivalent to that used by a small city without almost any loss in a compact and lightweight system that can't be achieved using conventional technology.
"The recent demonstration of the CORC cable is the result of the Navy's continued development of superconducting cable technology," said Jacob Kephart, who is the Applied Superconductivity Team Lead at the Naval Surface Warfare Center Philadelphia Division of the U.S. Navy. "The primary benefit superconductivity brings to Naval applications is the extremely high current density and lossless current transport compared to copper conductors. These superconductivity cables offer new design options and flexibility to move large amounts of power around a ship to meet the mission requirements."
In addition to Pamidi and van der Laan, other scientists working on the project include Chul Han Kim of CAPS, Jeremy Weiss of ACT and former CAPS researcher Lukas Graber.
For more on SBIRs, visit  https://www.research.fsu.edu/research-offices/opd/proposal-help/sbirsttr-grant-programs/ .