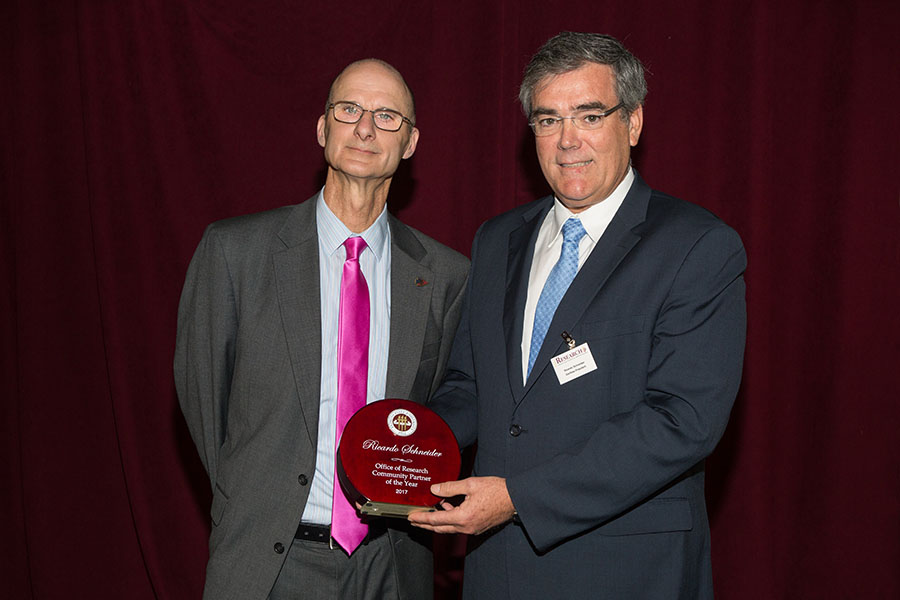 The Florida State University Office of Research honored Danfoss Turbocor Compressors President Ricardo Schneider Tuesday with the FSU Office of Research Community Partner of the Year Award for his work in promoting university research locally and worldwide.
Vice President for Research Gary K. Ostrander said the award recognizes Schneider's continued efforts to partner with the university through Danfoss. The manufacturing company has provided financial support to FSU's engineering research in aerodynamics and magnet technology, sponsored senior design projects at the FAMU-FSU College of Engineering, collaborated with faculty and provided internships for students.
"As a university, we have been incredibly lucky to benefit from Ricardo's energy, generosity and enthusiasm," Ostrander said. "As a member of the Research Foundation board, he has provided us with guidance and ideas for areas to expand our research capabilities. And as President of Danfoss Turbocor, he has facilitated greater partnerships between the company and our faculty and students."
Schneider received the award at the university's annual Research Recognition Dinner.
"Being recognized by the university in this way is a real honor," Schneider said. "The collaboration between Danfoss and FSU has been a tremendous success to both institutions, and it's been a pleasure to work with FSU's faculty and students."
Schneider graduated from the Universidade Federal do Rio Grande do Sul Brazil with a degree in mechanical engineering and attended Harvard Business School's executive education program. Since joining the Danfoss Group in 1992, he has held several positions in three different countries, including global vice president of Danfoss Air Conditioning. He joined Danfoss Turbocor in Tallahassee in 2009 as president and CEO.
Schneider is a member of the American Society of Heating, Refrigerating and Air Conditioning Engineers and a former chairman of the Air Conditioning, Heating and Refrigeration Institute. He is also a member of the Tallahassee-Leon County Economic Vitality Leadership Council.