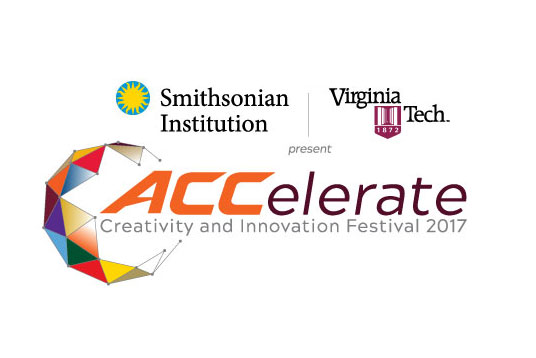 Florida State University students and researchers will be front and center for the first ACCelerate Festival, a three-day celebration in the nation's capital of creative research at the nexus of science, engineering, arts and design.
Organized by Virginia Tech and the Smithsonian's National Museum of American History, the festival runs Oct. 13-15 at the National Museum of American History in Washington, D.C. from 10 a.m. until 5:30 p.m. each day. The event will feature leading innovators from ACC universities and allow visitors to engage with new interdisciplinary technologies that draw upon art, science and humanities to address global challenges.
"The ACCelerate Festival celebrates creativity and innovation in higher education and recognizes its importance in preparing students to confront the demanding and complex problems of our day," said Ken Baldauf, director of the FSU Innovation Hub. "Florida State University will be well represented at this high-profile exhibition demonstrating our distinctive commitment to continuous innovation with creative exhibits and performance from several colleges. FSU is already highly regarded by the ACC and its member institutions for its excellence in athletics. This event provides us with the opportunity to showcase our excellence off the field, in academics, creativity and innovation."
The event is free to the public and showcases the 15 ACC universities. In addition to the 47 featured interactive installations, the festival will include panel discussions and performances throughout the three days.
FSU will present exhibits from the College of Motion Picture Arts and the National High Magnetic Field Laboratory, the College of Fine Arts, the College of Engineering and the College of Music.
The exhibits are:
FSU's Electronic Chamber Orchestra: EChO is composed of entirely electric instruments with no resonating bodies. The ensemble of 10 musicians plays through a computer with a technician applying various effects in real time.

Visual Reality as a Tool for Storytelling and Science: The FSU College of Motion Picture Arts and the National MagLab partnered to create a unique virtual reality experience. They will use virtual and augmented reality as tools to teach and communicate technical concepts in the area of high magnetic field science and technology. The College of Motion Picture Arts will also present an experimental virtual reality film titled "Static."

Bio-inspired Dynamic Robotic Climbing: This exhibit displays climbing robots inspired by the movements of geckos and cockroaches. These bipedal and quadrupedal robots include the world's fastest legged climber, the first robot to both climb a vertical wall and glide down and the first robot to run in an animal-like way on horizontal and vertical surfaces.

REBOOT Laboratory: The REBOOT Laboratory at the FSU Facility for Arts Research provokes discussion about the ways society designs, produces and discards products in consumer culture. Through the lab, students, artists and designers are developing tools and processes for transforming the waste products of consumerism into designed objects and materials for art.

Facial Replacement Animation: Innovative software allows artists to print 3D sculptures and models, and filmmakers are now delving into that realm as well. Animators are using this software to construct dynamic facial expressions. FSU students combine state-of-the-art printing practices with traditional sculpture techniques, synthesizing a unique and immersive creative experience.