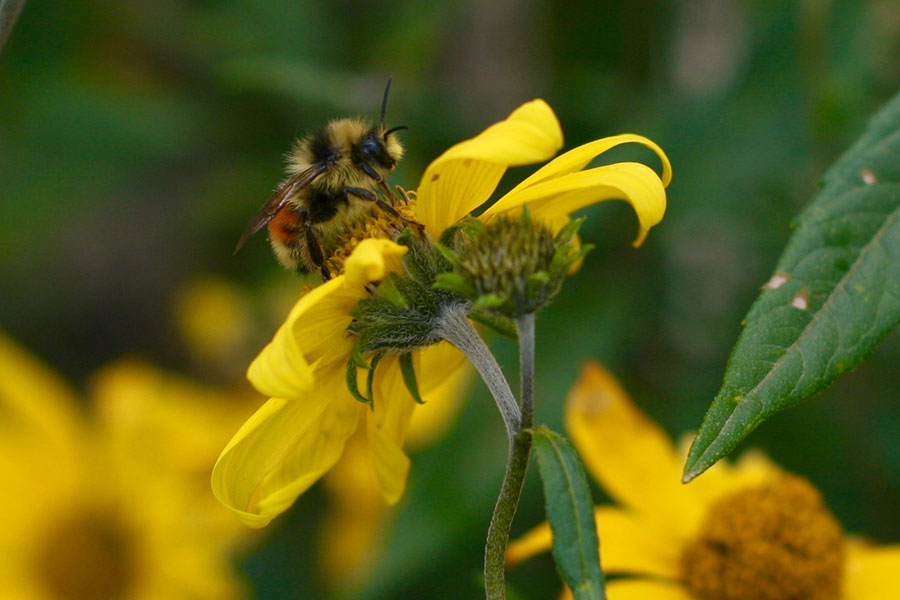 New research from a team of Florida State University scientists and their collaborators is helping to explain the link between a changing global climate and a dramatic decline in bumble bee populations worldwide.
In a study published Friday, Sept. 29, in the journal Ecology Letters, researchers examining three subalpine bumble bee species in Colorado's Rocky Mountains found that, for some bumble bees, a changing climate means there just aren't enough good flowers to go around.
The team analyzed the bees' responses to direct and indirect climate change effects.
"Knowing whether climate variation most affects bumble bees directly or indirectly will allow us to better predict how bumble bee populations will cope with continued climate change," said FSU postdoctoral researcher Jane Ogilvie, the study's lead investigator. "We found that the abundances of all three bumble bee species were mostly affected by indirect effects of climate on flower distribution through a season."
As the global climate changes gradually over time, delicately poised seasonal cycles begin to shift. In the Rocky Mountains, this means earlier snowmelts and an extended flowering season.
On the surface, these climatic changes may seem like a boon to bumble bees — a longer flowering season might suggest more opportunity for hungry bees to feed. However, Ogilvie and her collaborators found that as the snow melts earlier and the flowering season extends, the number of days with poor flower availability increases, resulting in overall food shortages that are associated with population decline.
"When researchers think about flower effects on bees, they typically consider floral abundance to be the most important factor, but we found that the distribution of flowers throughout a season was most important for bumble bees," Ogilvie said. "The more days with good flower availability, the more bees can forage and colonies can grow, and the bigger their populations become. We now have longer flowering seasons because of earlier snowmelt, but floral abundance has not changed overall. This means we have more days in a season with poor flower availability."
Declining bumble bee populations globally have long been cause for alarm among conservationists, who see the buzzy pollinators as a bellwether for the malign effects of a changing climate.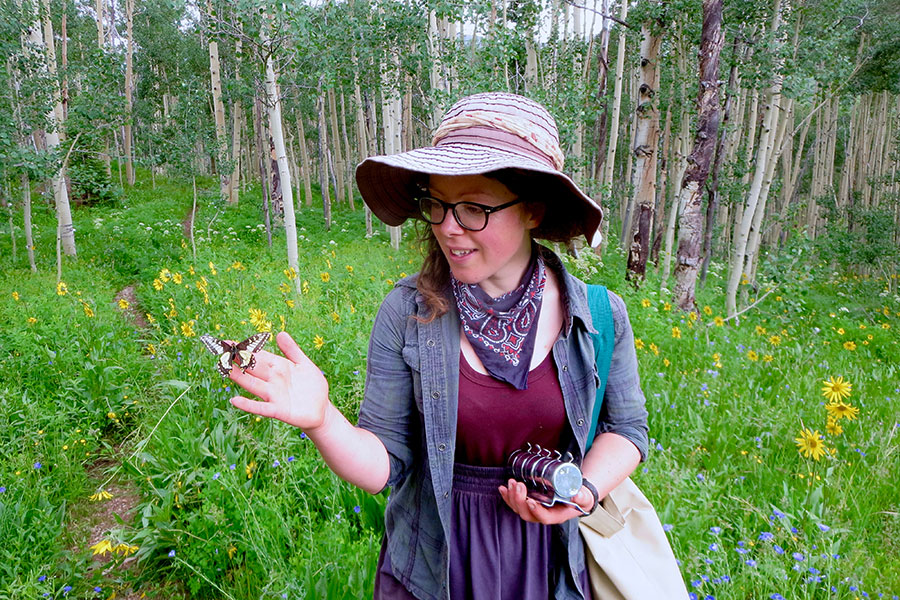 Ogilvie said these most recent findings contribute to a growing body of evidence for the grave ecological consequences of climate change.
"Declining bumble bee populations should be a warning about the expansive detrimental effects of climate change," Ogilvie said. "Bumble bees have annual life cycles, so their populations show responses to change quickly, and many species live in higher altitude and latitude areas where the change in climate is most dramatic. The effects of climate change on bumble bees should give us pause."
The damage inflicted by climate change on global pollinator populations is of particular concern for scientists, as these species are crucial to agricultural productivity and the propagation of natural plant communities.
As researchers work toward a better understanding of climate change and its ecological effects, the link between pollinator health and shifting climate processes is becoming impossible to ignore.
"Pollinator species around the world have been declining, but we are still learning about what might be causing declines," said FSU Professor of Biological Science Nora Underwood, a coauthor of the study. "Although not all species are influenced in the same way, I was excited to be part of this study because we now have long-term data that shows changing climate is influencing bumble bees."
While this research helps to confirm the long-presumed connection between climate change and bumble bee population decline, Ogilvie said that the findings indicate a more difficult path for conservationists than previously anticipated.
"I'm afraid that this research shows conservation will be even more complicated than expected," she said. "In addition to the response of the target species, our findings suggest that we should be considering how a species' food resources might be responding to climate change. For bumble bees in particular, we need to make sure that they have enough flowers available during the entire season."
FSU Professor of Biological Science Brian Inouye also contributed to this research, along with Sean Griffin and Rebecca Irwin from North Carolina State University, Zachariah Gezon from Rollins College and David Inouye from the University of Maryland. Funding was provided by the National Science Foundation.