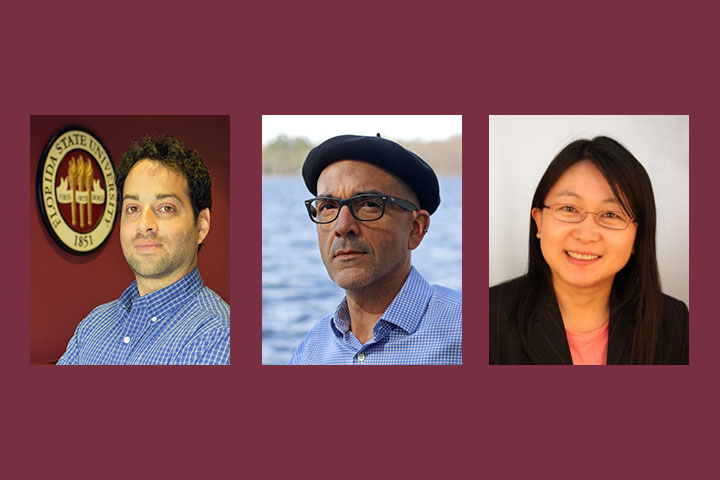 Three Florida State University faculty members will receive financial support from the university to transport their innovative research from the laboratory to the marketplace.
The Office of the Vice President Research will split a pot of $110,000 among three researchers to build a new education application, a technology to track ocean currents and a novel sensing device for jet turbine engines.
They won the money through the university's biannual GAP competition, a "Shark Tank" event that allows researchers to pitch their research ideas to a panel of local business executives. The event and grants are funded by the Office of the Vice President for Research.
"Our faculty members are developing new technologies and making new discoveries that can make our world a better place," said Vice President for Research Gary K. Ostrander. "The GAP competition allows researchers to pitch their ideas to a board that will not only provide funding, but also guidance about how to move their work to the next stage of development."
The GAP program has provided university researchers with more than $2 million over the past 10 years to help researchers develop new cancer treatments, food contamination kits and next-generation wound dressings.
At the spring competition, the panel agreed to fund three promising projects.
The winning projects are:
A new education application for teachers: Yaacov Petscher, director of research at the Florida Center for Reading Research, developed an educational platform that allows teachers and students to simultaneously access an assessment tool, so that teachers could record results as students take assessments. Petscher said the platform would cut down on the number of forms students and teachers need for performance and scoring and allow for information to be more easily accessible for evaluation.
A device to track ocean currents: Nico Wienders, an associate research scientist in the Department of Earth, Ocean and Atmospheric Science, invented a disc-shaped instrument that can easily be deployed at sea and help monitor ocean surface currents.  Main commercial uses for this new device are operational response to oil spills and marine pollution, weather forecasting, and search and rescue operations. The device transmits time, position and other relevant data streams such as temperature, salinity and acidity via satellite at programmable intervals.

A sensor for turbine engines: Cheryl Xu, associate professor in the FAMU-FSU College of Engineering, developed a novel sensor using ceramic material that can withstand harsh environments, such as the inside of a turbine engine located on a jet or in a power plant. These sensors can provide critical temperature and pressure data, alerting operators to potential problems before they occur.
For more information, please visit the FSU Office of Commercialization.