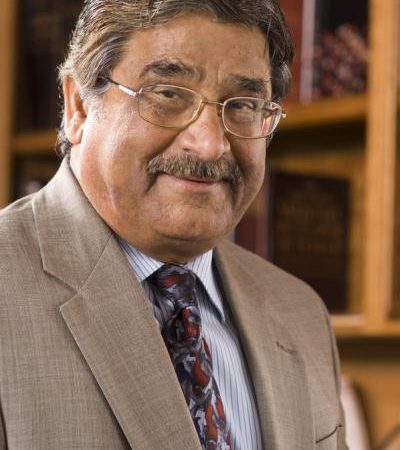 A Florida State University chemistry professor has been named a fellow of the prestigious Royal Society of Chemistry in the United Kingdom.
Professor Naresh Dalal, a 22-year veteran of the FSU Department of Chemistry and former department chair, was named a fellow of the society in recognition of his accomplishments in the field of information storage and materials science.
"It's just an honor, and I'm humbled by this," Dalal said. "This honor recognizes our contributions on an international level. And it obviously has a lot to do with my students over the last 35 years who have helped execute much of this work."
Dalal came to Florida State in 1995 from West Virginia University, drawn partly to the university because of the National High Magnetic Field Laboratory. Dalal used the MagLab to develop new magnetic materials that can be used for electronic information storage. Notably, he led a team that synthesized a material called Fe8 — a molecule made of eight iron ions that form a high magnetic field. That substance led to new kinds of medical imaging.
In 2012, he was named a Robert O. Lawton Professor, the highest honor given by Florida State University faculty members to one of their own.
His current research involves the development of novel materials for information storage both electronically and magnetically, leading potentially to more compact and sophisticated components for future technology.
"Professor Dalal's recent research is notable in two respects," said Robert O. Lawton Professor of Chemistry and Biochemistry Alan Marshall. "First, unlike most senior scientists, he is moving in directions quite different from his earlier work, and second, his recent research is among his best. In other words, he is still peaking."
Dalal said his selection as a fellow is also a tribute to his former colleague and friend, the late Sir Harold Kroto. Kroto was a Nobel Prize winner in chemistry who came to FSU in 2004 as the Francis Eppes Professor of Chemistry. He died last year.
Dalal was chair of the Department of Chemistry when FSU recruited Kroto, and Kroto, who was a former president of the Royal Society of Chemistry, had urged Dalal to become a member and seek nomination as a fellow.
"Being a part of this organization in a way is me being thankful to him," Dalal said.
Dalal received his doctorate from the University of British Columbia. He is a fellow of the American Association for the Advancement of Science, American Chemical Society and American Physical Society.
Tim Logan, chair of the FSU Department of Chemistry, said Dalal being named a fellow is a fitting tribute to his career.
"Being elected as a fellow of the Royal Society of Chemists is a well-deserved recognition of Naresh's outstanding career," Logan said. "We are very fortunate to have scientists of his caliber here at FSU."