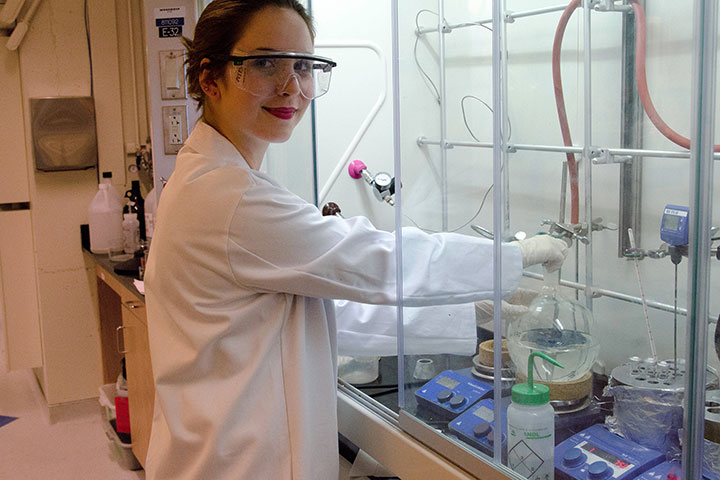 Florida State University senior Alexandra Barth is motivated by an enduring desire to understand how things work.
As a chemistry major with an already imposing research résumé, the FSU Honors student has oriented her work around the study of solid-state materials — a branch of chemistry and material science focused on studying the shapes, patterns and atomic compositions of different crystal structures.
"If I didn't go into chemistry I probably would have gone into architecture," Barth said. "There's something extremely structural, mathematical and regular about crystal-based chemistry that I really enjoy."
Barth, a native of Bradenton, Fla., had long known that she wanted a college experience founded on active and instructive participation in research projects.
Early in her time at FSU, Professor of Chemistry Thomas Albrecht-Schmitt took notice of Barth's prodigious talent and academic promise after she aced one of his difficult general chemistry exams. Since then, Barth has been a member of Albrecht-Schmitt's research group, where she and a small cohort of elite student researchers explore crystal chemistry in the nuclear sciences.
"He was the first person to really discover my potential," Barth said of Albrecht-Schmitt. "The research that we do here is really unique to our institution. We study fundamental nuclear chemistry, which involves learning how the nuclear elements bond so that, if you have a lot of nuclear waste, you're better able to separate out the actively nuclear components, aiding environmental cleanup efforts."
Albrecht-Schmitt, who was recently awarded a $10 million grant from the U.S. Department of Energy to fund his research and development of new technologies that will improve our capacity to recycle nuclear waste, lauded Barth's excellence in the classroom and rigor in the laboratory.
"Alexandra is a remarkable scholar that combines near perfection in the classroom with the ability to direct her own research in the lab," he said. "Her leadership skills are seldom seen among scientists. I really cannot wait to see what she becomes when she starts her independent career."
Like her research mentor, Barth's achievements in the laboratory have attracted the attention of the U.S. Department of Energy, which has awarded her $15,000 over the past two years through a scholarship program specifically targeting undergraduate nuclear researchers.
"The DOE has funded a lot of my education. It's pretty nice," she admitted.
Last summer, Barth was accepted into a competitive nine-week Research Experience for Undergraduates program funded by the National Science Foundation, where she and 10 other students were able to conduct advanced material science research at MIT. Barth, who worked as a member of a chemical engineering group, contributed to research that sought more potent and cost effective ways of using platinum to purify gasoline.
"Platinum is important for purifying gasoline," Barth said. "What this lab had determined is that if you take nanoparticles and coat them in atomically thin layers of platinum, you could increase the surface area of platinum and make the particles more efficient."
Barth explained that these newly coated nanoparticles also exhibited a resistance to carbon monoxide, which has been found to degrade platinum catalysts during the purifying process. At MIT, Barth was exploring subtle but consequential ways that these nanoparticles could be further improved.
"What I was doing specifically was making slight metal modifications in those nanoparticles to see if we could increase their efficiency at all," she said.
Overall, Barth said that her experience at MIT was valuable because it exposed her to a highly motivated, collaborative society of ambitious scholars.
"There is such a concentration of smart people," she said. "There's a great feeling of group and community. I loved the atmosphere up there."
While her research accomplishments are remarkable, Barth says that what she finds most rewarding is the feeling of giving back to, and working in service of, the Florida State community.
As an organic chemistry teaching assistant and a tutor at FSU's CARE Center, Barth uses her abilities to enrich the academic lives of her peers.
"It's amazing to see how giving someone a little bit of help on their homework can entirely transform their day," she said. "In the CARE Center, I'm able to see the same students everyday — they know my hours and sometimes they come in specifically to see me. I get to watch how they develop from the time they first come on campus to the end of their first year."
Barth credits the FSU Honors Program as an important force in her development as a successful college student, and she explains that the Honors Program's work in facilitating the presentation of undergraduate research has been crucial for her and other young academics.
"If you've done a research project, it's considered a quantitative goal for you to take that project and present it at a conference," she said. "What's really beneficial is that the Honors Program awards attendance and presentation grants, which lowers the financial barriers for students presenting their research."
Barth explains that this opportunity to present research has the effect of validating and legitimizing the hard work of undergrads.
"Especially for students who want to go to grad school, presenting your research at conferences establishes your legitimacy," she said.
The Honors Program, Barth explains, has helped her to feel more professional in her research, affording her the confidence to set lofty goals and pursue her dreams.