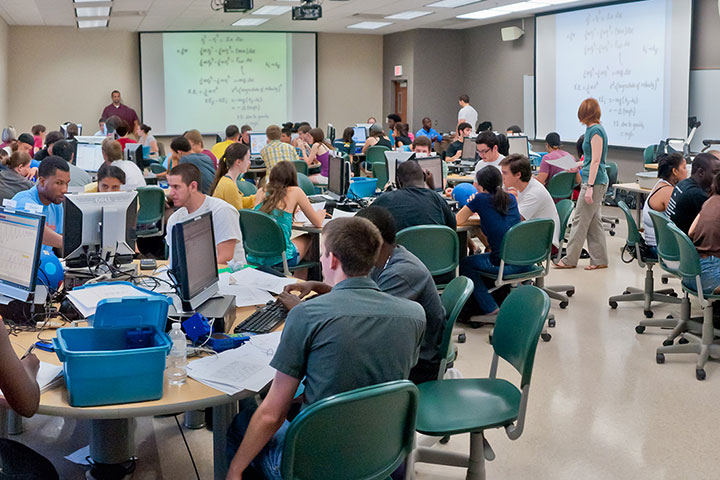 A new joint report from the American Physical Society and the American Association of Physics Teachers puts the spotlight on Florida State University's physics program as a model for other institutions around the nation.
The report, which was funded by the National Science Foundation, examines what skills and knowledge the next generation of physicists should possess and how well prepared undergraduate programs are to fulfill that charge. It also provides guidance for physics program administrators who are considering revising the undergraduate curriculum.
Florida State's undergraduate physics program is highlighted as a positive case study on how small changes to curriculum can have a big effect on students. The report included interviews with FSU physics Professors Horst Wahl, Susan Blessing, Paul Cottle and Winston Roberts.
"We are very proud of the improvements we've made to the undergraduate program, especially in improving the community for the undergraduates and increasing the number of students involved in research," said Blessing, chair of the department's Undergraduate Affairs Committee.
The report notes that the FSU physics program must balance competing priorities, including graduate and undergraduate education and research productivity. Yet, it has managed to succeed in a number of areas related to undergraduate physics.
"A strong undergraduate committee and a focus on preparing all students for success have led to a number of successful curricular interventions that prepare students for several key transitions in the major, including entrance to the major and the transition to the upper division, and support students in developing communication and computation skills within the context of the discipline," the report says.
Generally, the report noted that there is broad consensus that students need to be prepared to work in teams and be able to speak and write well about science and technology. It also stressed that faculty members could play an important role in advising and preparing for students who are pursuing science careers outside of academia.
Blessing and Wahl, who is the department chair, said the department has made a number of changes to improve the undergraduate experience and prepare students for a career beyond the classroom.
In particular, the report highlights a number of new FSU courses that emphasize communication and problem solving, plus a required one-credit course in which students learn about careers and write a resume that is critiqued by the university's Career Center. In addition, the program now requires its staff adviser to have a bachelor's degree in physics, and faculty members are trained to directly handle advising issues.
"For many years, one of the priorities on the agenda of the physics department was to improve the learning environment for the students pursuing a bachelor's degree and thereby making for better learning outcomes," Wahl said. "One essential ingredient in changing the way we teach introductory physics was the use of a new kind of classroom that allowed for a more interactive and more collaborative learning process. We would like to extend this way of teaching to other, more advanced courses. We are looking forward to having more classrooms like this available to us in the future."