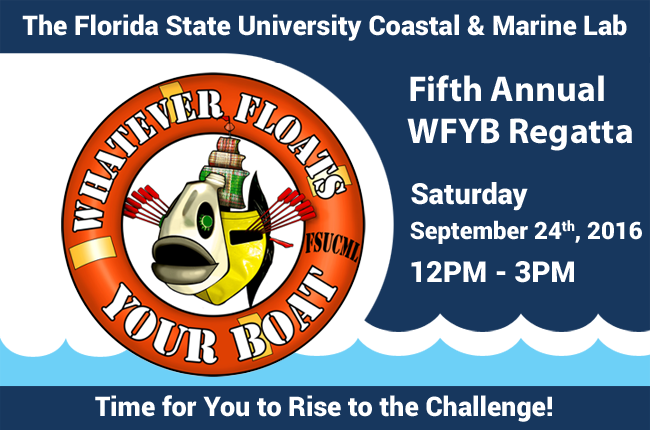 Florida State University's Coastal and Marine Laboratory (FSUCML) invites community members to witness the thrills and spills of the 5th Annual Whatever Floats Your Boat Regatta this Saturday in the beautiful coastal area of St. Teresa, Fla.
The regatta features "boats" made from scratch by participating teams that are raced around a predetermined course for fun and prizes. Stressing an environmental conservation theme, each "boat" must be created from a list of approved recyclable materials and, at least initially, should be able to float.
"Protecting our coastal and offshore waters from marine pollution — whether it's plastic debris or chemicals that are dumped into rivers and oceans — is a serious task that takes science and an engaged citizenry to combat," said Felicia Coleman, director of the FSUCML. "Learning about this issue starts with education. And who says that can't be fun? Our regatta stands as a marvelous way for folks to think about repurposing used stuff and to learn about the effects of marine debris on ecosystem health."
The regatta will take place from noon to 3 p.m. Saturday, Sept. 24, at the FSU Coastal and Marine Laboratory, 3618 Coastal Highway 98, St. Teresa.
Public viewing of the boats is from noon to 1 p.m. followed by the race. The regatta will be fully visible from various shoreline vantage points around the Marine Lab.
Past regattas have included boats made entirely out of materials such as aluminum cans and plastic bottles, and featured boat shapes ranging from canoes to giant sea turtles.
With race objectives and prizes aimed more at staying afloat than being the fastest to the finish line, fun and laughter are the themes of the day. Prize categories for regatta participants include:
Most creative use of materials

First boat to cross the finish line

Titanic award for the most spectacular failure

People's Choice award
To register for the regatta or learn more about the event, visit the event page.