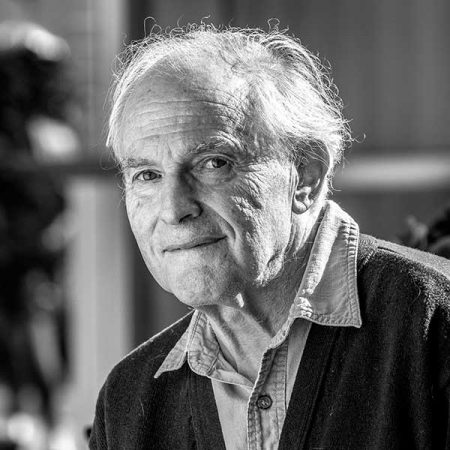 The Florida State University community is mourning the loss of a scientific giant, Professor and Nobel Laureate Sir Harold Kroto.
Kroto died Saturday at the age of 76.
"Florida State University has lost a beloved member of its family with the passing of Sir Harry Kroto," said President John Thrasher. "Sir Harry was a brilliant scholar and an even better man who was generous with his time and expertise in mentoring our students, collaborating with faculty and elevating the stature of this university. Our hearts are heavy, but we are forever richer because of his contributions to Florida State, the scientific community and the world."
Kroto — a world-class chemist, teacher, mentor, friend and sometimes graphic designer —joined the Florida State University faculty in 2004, capping off a brilliant career that included the 1996 Nobel Prize in Chemistry for the discovery of the Buckminsterfullerene molecule.
The discovery of Buckminsterfullerene, otherwise known as buckyballs, opened up a new world of chemistry. Just last year, researchers from the University of Basel in Switzerland discovered that these molecules were part of a cloud of gas floating between stars. Kroto had made that prediction years ago, but scientists only recently were able to adequately create the conditions in a lab to confirm that.
It also led to the development of new materials such as buckypaper, a feather-light material that is being tested in electronics, energy, medicine, space and transportation. Though it is light, it is also remarkably strong. The aviation industry, for example, projects that it could replace metal shielding in the Boeing 787, currently made up of 60 miles of cable.
Kroto was born in Wisbech, England after his parents fled Nazi Germany as refugees. He developed an early interest in both chemistry and physics and went to the University of Sheffield in 1958, obtaining first a Bachelor of Science degree in chemistry and then a doctorate in molecular spectroscopy.
In 1967, he began teaching at the University of Sussex in England, where his research focused on spectroscopic studies of new and novel unstable species. His 1985 discovery of buckyballs shifted his research from spectroscopy to probe the consequences and possibilities associated with this new molecule.
In 2004, he accepted the position of Francis Eppes Professor of Chemistry at FSU, where he continued his work on buckyballs and mentored several students and younger faculty.
Tim Logan, chair of the Department of Chemistry and Biochemistry, noted that Kroto was exceptionally generous with his time and inspired countless students.
"Harry had time for everyone," Logan said. "He treated everyone the same — from undergraduate to graduate student, from faculty to staff, whether you were a big-time administrator or politician or were anonymous in a crowd of two — he would engage you in conversation. But of all the people he met, I think he most enjoyed spending time with very young students through his many speaking engagements and working with older students through his GEOSET studios."
In addition to his research agenda, he was fiercely dedicated to expanding educational opportunities. In 1995, he set up the Vega Science Trust, a British educational charity to create high quality science programming that included interviews with Nobel laureates, plus teaching resources for television and the Internet.
At Florida State, he spearheaded the development of GEOSET, short for Global Educational Outreach for Science, Engineering and Technology. GEOSET is a growing online cache of video teaching modules that are available for free.
He also developed several unique programs for Florida State, hosting an annual "Opening Minds" lecture series in the fall semester to help spur creativity and scientific experimentation within the university and surrounding community.
"I think he's the greatest human being I've ever known," said Mark Riley, the Robert O. Lawton distinguished professor of physics and a close friend of Kroto. "His never-ending desire to educate the whole world was just amazing. He knew that education is the answer, and that's why he built GEOSET and the Vega websites. He wanted to educate the world."
FSU Provost and Executive Vice President for Academic Affairs Sally McRorie added that though his FSU family missed him greatly, the university was incredibly fortunate to have him.
"Who grows up thinking that they will meet one of the greatest scientists and thinkers of their time? We at FSU were so fortunate to have Sir Harry Kroto among us," McRorie said. "His engaging questions about everything and the learning he inspired for all ages were paired with the most profoundly caring and generous heart that anyone might imagine. We mourn his loss, and celebrate his amazing life and our great fortune to have been a part of it."
Kroto is survived by his wife Margaret and sons Stephen and David.
The Florida State faculty on Sir Harry Kroto's passing:
Gary Ostrander, vice president for research: "Even though it is cliché, we are all better for having known him. Harry had a passion for science and educating others that was inspiring. His legacy goes far beyond his scientific contributions. He inspired dozens of students to pursue science and learn all they could about the world."
Kirby Kemper, professor emeritus: "We were lucky to have Harry Kroto as a colleague for 10 years. His intense intellectual interest in everything was a wonderful example for all of us to aspire to. He brought excitement to everything he did in life. He will be sorely missed. He and his wife Margaret were a tremendous team and we will miss her at FSU also. Our chemistry colleagues worked hard to get him to FSU, and we all benefited from their tremendous efforts."
Naresh Dalal, professor of chemistry and biochemistry: Dalal was the chair of the Department of Chemistry and Biochemistry when FSU recruited Kroto and had known Kroto for more than 40 years. Kroto had served as a visiting professor at the University of British Columbia when Dalal was a student.
"I noticed one day I had a voicemail from him saying to call him. I didn't call back at first because I thought he was going to tell me he had decided to [choose another school]. So, I called and he said, 'Well Naresh, guess what? I've decided to come to FSU'. I gulped. I said, 'Harry, what did you say?' It took us three years to get him here. We were just so delighted. Everything else was just history. He was just so good. People flocked around him day and night to hear what he had to say about chemistry, teaching, environment and the teaching of science to society. We enjoyed every day he was here."
Tim Logan, chair of Chemistry and Biochemistry: "What always brought out the best in Harry was his wife, Margaret. Margaret and Harry were always together, until the end of Harry's life. She served as his business manager, scheduling his many speaking engagements around the world, organizing the travel, and supporting him in many, many ways. What I found so remarkable is that even after 57 years together, they were so obviously in love. Harry would include photos and sketches he made of her in his lectures, and he always acknowledged her as his moral compass."
Steve Acquah, director of GEOSET and associate research professor: "Harry had a presentation style that matched no other. His hyperlinked cache of PowerPoint presentations left everyone astonished and certainly impressed, and his signature slides with the Nitrosoethane molecule demonstrating rotation as a dog by a lamp post was a clear audience favorite. Beyond the presentations was his desire to make people really think about the world we live in, and learn something new about ourselves. He used the quote from the Don Marquis that I now use in my invited lectures — 'If you make people think they're thinking, they'll love you; but if you really make them think they'll hate you.'"
Mark Riley, professor of Physics: "When I met him, I could tell after one minute here was somebody very special, and we would be close friends forever. Harry grew up about 13 miles from where I grew up. So, I shook his hand and said, 'Harry, I'm from Manchester, are you a Manchester United fan?' He told me in no uncertain terms that he was not."
Qing-Ziang Amy Sang, professor of Chemistry and Biochemistry: "Sir Harry Kroto was a great scientist and a generous, kind, and beautiful human being. Harry loved science, humanity, and society. He was an inspiration for our students, staff and faculty members, and general public. It is devastating to know about this sad news. Harry will always live in our hearts, minds, and souls."
Alan Marshall, Robert O. Lawton Professor of Chemistry and Biochemistry: Marshall and Kroto shared an office when Kroto served as a visiting professor at University of British Columbia and was key in helping Dalal recruit Kroto for Florida State.
"Professor Kroto was an inspired teacher and treasured colleague, who unselfishly gave of his time to help students and faculty, including several successful faculty nominations for major awards. He returned to England in Fall 2015, due to failing health, but remained professionally active right up until the end. He is sorely missed at FSU."