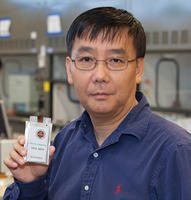 A Florida State University electrical and computer engineering professor renowned for his work on energy storage materials and devices has been elected to the National Academy of Inventors (NAI).
The NAI named Professor and Sprint Eminent Scholar Chair Jianping "Jim" Zheng a fellow, an honor that has only ever been bestowed on 581 other people worldwide.
"I'm very surprised and honored," Zheng said. "This is a lifetime achievement award for innovation."
Election as an NAI fellow is a high professional distinction given to academic inventors who have demonstrated a prolific spirit of innovation.
The 2015 class of fellows have had a significant impact on the economy through their innovative discoveries that have resulted in more than 5,300 U.S. patents.
Zheng alone has 15 patents, five of which have been turned into technologies that have been licensed to companies such as General Capacitor and Kim Technologies. An example of one of those technologies is a lithium-ion supercapacitor licensed to General Capacitor that is designed for rapid energy storage and delivery. It's also been used by the Army for its radio systems.
Additionally, he has worked with FSU's High Performance Materials Institute to develop more efficient fuel cells from buckypaper, a feather-light material made from carbon nanotubes. Those fuel cells are now being used by StarMetro, Tallahassee's bus system.
"Professor Zheng is a leader in engineering, and he is highly deserving of this award that honors his highly inventive work," said Bruce Locke, interim dean of the Florida A&M University-Florida State University College of Engineering. "The College of Engineering is very fortunate to have Professor Zheng on the faculty where he contributes to the education of many undergraduate and graduate students through his courses and his research and commercialization activities."
Zheng came to the College of Engineering in 1997 after serving as an electrical engineer and research scientist at the Army Research Laboratory in Wall Township, New Jersey. He also worked as a research assistant professor at the State University of New York at Buffalo, where he received his master's and doctoral degrees.
NAI fellows were informed of their selection at the end of year and will be inducted on April 15, 2016, as part of the Fifth Annual Conference of the National Academy of Inventors at the United States Patent and Trademark Office in Alexandria, Va. Fellows will receive a special trophy, medal and rosette pin in honor of their accomplishments.