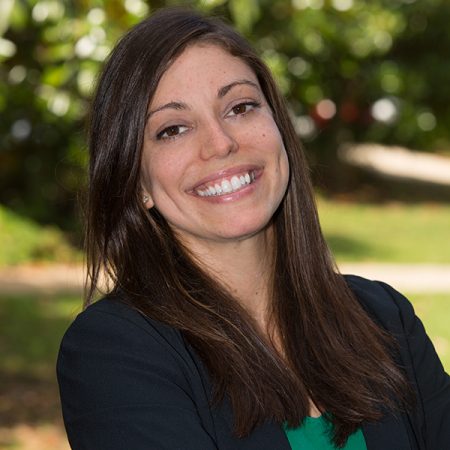 A Florida State University student has won a prestigious fellowship that helps recipients combine their interests in ocean, coastal or Great Lakes resources with the shaping of national policy decisions that affect those resources.
Alexandra Harper, a doctoral student studying chemical oceanography, will spend 2016 working in the federal government's executive branch in Washington, D.C., as the recipient of a John A. Knauss Marine Policy Fellowship from the National Oceanic and Atmospheric Administration's (NOAA) National Sea Grant College Program. The fellowship, which comes with a $56,500 stipend, will allow Harper to hone the skills required to be an effective advocate for responsible coastal and marine resource management and prepare her to participate in marine issues at the local, regional and national level.
"The Knauss Policy Fellowship represents an exciting opportunity to combine my interests in marine sciences and public policy, and I am honored to have received this award," Harper said.
As a Knauss fellow, Harper hopes to contribute to the field of environmental policy by promoting the reduction of harmful pollution emissions in aquatic systems. At Florida State, she studies the effects of the Deepwater Horizon oil spill and its impact on mercury concentrations in northern Gulf of Mexico fishes.
"My graduate education at Florida State University and research in the Gulf of Mexico has shown me the complexity of marine science issues, and I am committed to applying my scientific understanding to the shaping of national marine policy," said Harper, a native of Tallahassee who grew up visiting the Upper Floridan Aquifer springshed and the coastline of Florida's Big Bend.
Harper's research mentor, William Landing, a professor of oceanography in Florida State's Department of Earth, Ocean and Atmospheric Science, commended Harper as an outstanding young environmental scientist.
"Alex has mastered the operation of some very sophisticated instruments for the analysis of mercury species and mercury isotopes and has used the data to explore the processes responsible for the high mercury levels in Gulf of Mexico fish," Landing said. "She is also using her data to explore whether and how the Deepwater Horizon oil spill might have altered the mercury cycle in the northern gulf.
"Alex has the skills needed to succeed in science and is always ready to face new challenges," he said.
Jeff Chanton, Florida State's John Widmer Winchester Professor of Oceanography who serves as one of Harper's major professors, characterized her as a superb graduate student who is bright, poised and personable.
"Alex works independently and her work is of the highest quality," Chanton said. "She is the ideal scholar who develops her own ideas and hypotheses while harkening to advice and input from her graduate committee."
Prior to her graduate career, Harper was involved in the policy arena dealing with waste-water disposal and restoration planning and compliance with federal regulations as a member of the Leon County (Fla.) Soil and Water Conservation Commission in 2008-2009.
"This position also involved public outreach and environmental education at which she is a natural," Chanton said.
Harper also has worked with McGlynn Laboratories, one of Florida's premier ecological laboratories, where she conducted fieldwork, laboratory analysis and assisted with proposal writing and project reports.
Sarah Cox, interim director of Florida State's Office of Graduate Fellowships and Awards, commended Harper's dedication to marine wildlife and policy reform as indicators that she will excel in the NOAA fellowship.
"Alex will be able to utilize her combination of unique experiences both in aquatic sciences as well as policy development to positively represent herself as well as FSU," Cox said. "The Graduate School at Florida State University is both happy for and proud of her accomplishment."
Any FSU graduate student who is interested in applying for similar external funding is encouraged to contact the Office of Graduate Fellowships and Awards at ogfa-info@fsu.edu.