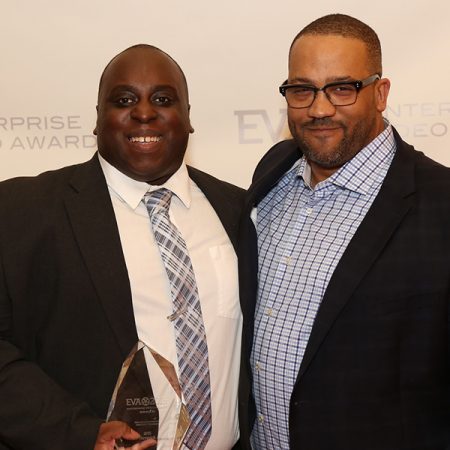 Florida State University's GEOSET Studios has won the 11th annual international Enterprise Video Awards given by media hardware and software giant Sonic Foundry.
The awards honor excellence in Mediasite integration into business, education, health and government. Mediasite is a technology platform created by Sonic Foundry that allows video to be created, edited and managed.
"We're honored to recognize GEOSET Studios for the impressive ways it is using Mediasite to challenge the video status quo," said Rob Lipps, executive vice president of Sonic Foundry. "GEOSET Studios is at the top of its game, and a shining example of how beneficial having a video strategy can be."
GEOSET is the abbreviation for Global Educational Outreach for Science Engineering and Technology, a program established by Sir Harold Kroto, a Nobel laureate and professor of chemistry at Florida State University, as well as Associate Research Professor of Chemistry Steve Acquah and former Adjunct Instructor of Chemistry Colin Byfleet, who is now the international GEOSET coordinator
The idea behind GEOSET was the desire to bring together educational institutions around the world in a collaborative effort to produce a free resource of educational material. GEOSET Studios, located in the Dirac Science Library at Florida State University, was formally opened by TV scientist Bill Nye last year and provides support to students and faculty with the recording of class projects and creation of videos about their research.
GEOSET won the Maverick Video Award category of the awards, which recognizes a group or individual's efforts to evangelize the use of new media in their larger organization or setting.
GEOSET's winning video entry showcases the work of Sir Harold Kroto and the outreach activities of GEOSET and their partners.
"The award is a testament to the support provided by Florida State University," said Acquah, who serves as director of GEOSET. "Sir Harold Kroto is a champion of education. His tireless efforts to strive for better access to educational material is the primary reason for establishing GEOSET. The award-winning video entry is a fitting tribute to his contributions to science and educational outreach."
In addition to Acquah, several students staff the studio and work with students and university employees to create videos.
For example, biology major Patricia Martin, who also serves as the group's chief science officer, produced a web series called "Helix" that focused on genetic disorders. She also meets with other students who are trying to create their own web series or individual videos about science.
"We enjoy helping the university community to record and publish their work, and look forward to hearing about their success in the future," Martin said.
Winners were honored at Unleash, the global Mediasite User Conference in Madison, Wis.
The awards ceremony can be viewed on-demand here.