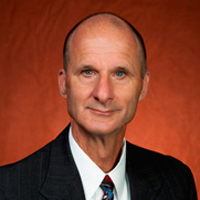 The Council on Research Policy and Graduate Education (CRPGE) has appointed Florida State University's Vice President for Research, Gary K. Ostrander to serve on its executive committee.
Ostrander and nine other higher education officials will develop research policy recommendations and advocate for continued research funding for universities across North America.
"It's an honor to join CRPGE's leadership team as we work to advance the research capabilities of the U.S. and our neighbors," Ostrander said. "University-based research is an essential building block to our past, current and future success, and I look forward to helping it grow and adapt to changing times in this new role."
As one of 10 councils within the Association of Public and Land-grant Universities, CRPGE consists of the chief administrative officers at member campuses and systems who have responsibility for research policy and administration and graduate education.
CRPGE monitors government rules and regulations affecting campus scientific and technical research and those concerning graduate education.It has working groups focusing on re-authorization of the Higher Education Act, protection of human research subjects and the National Research Council's study of research and doctoral programs.
"Losing our sense of urgency about university research, even for a moment, can set us back decades, both economically and technologically," Ostrander said. "The breakthroughs that will be shaping our lives 10, 20, even 30 years from now are happening on university campuses today, making the efforts of groups like CRPGE more important than ever before."
Ostrander met for the first time with the CRPGE executive committee Feb. 23 and 24 at the Winter Executive Committee Meeting.
To learn more about CRPGE, visit the council's website.