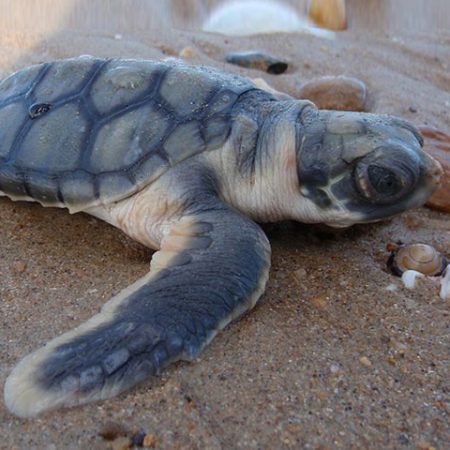 When you only have so many dollars, how do you spend it?
It's a simple question, and one that every individual, family, business and government agency has had to tackle.
It's also the focus of new research by Florida State University Assistant Professor of Oceanography Mariana Fuentes. But Fuentes has a very specific focus for her work. She developed a framework to help government agencies and conservation groups determine how to prioritize decisions as they work to protect endangered marine animals.
"You have to look at how do you best allocate your resources to maximize conservation outcomes to make the most ecological impact," Fuentes said.
Fuentes developed a novel system based on statistical analysis and decision theory that lets groups consider several different issues while trying to determine a best course of action. It examines the cost of the action, not only in terms of dollars and cents, but also politically and socially.
For her research, she focused on conservation options for flatback sea turtles in northern Australia. Then, Fuentes and colleagues ran several budget scenarios, coupled with concerns of local and indigenous populations to look at how to best protect the turtles' eggs from predatory species and harvest by humans.
"We could tell the model that we have X amount of dollars and then find out what the best management options are," Fuentes said. "It's a very useful way to look at tradeoffs in the conservation of species."
For that particular scenario, Fuentes and her colleagues found that a combination of ground and aerial techniques gave local conservation workers the best outcomes while also fitting into local political, social and financial constraints.
"We used turtles to test this framework, but it can be applied to any species and different contexts," Fuentes said.
Fuentes' work is published in Ecological Applications, a journal published by the Ecological Society of America, and local groups in Australia are using the metrics she developed. Fuentes, a new hire in the Department of Earth, Ocean and Atmospheric Science, completed the majority of the work while working as a research fellow at James Cook University in Australia.
Other institutions contributing to the research are Mapoon Aboriginal Shire Council (Australia), Cape York Sustainable Futures (Australia), Queensland Department of Environment and Heritage Protection (Australia), FeralFix (Australia), University of Helsinki (Finland) and the Computational Ecology and Environmental Science Group at Microsoft Research (United Kingdom).