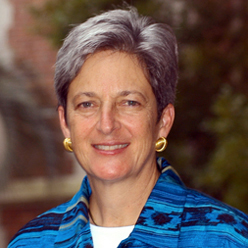 Florida State University Graduate School Dean Nancy Marcus is featured in a new issue of Oceanography Magazine that highlights top-tier female oceanographers and their contributions to the field.
Marcus was appointed dean of the Graduate School in 2005, while at the same time being featured in Oceanography Magazine's first look at female oceanographers.
"At that point I thought I might be able to spend more time still pursuing my oceanographic research, but I decided that if I was going to do a good job as dean I really needed to devote all of my efforts to those responsibilities," Marcus said.
Marcus, who earned a doctorate in biology from Yale, studied the basic ecology and life history of copepods, which are tiny crustaceans found in the sea and nearly every freshwater habitat. She focused on the factors that affected their life cycles in the ocean and ultimately applied that knowledge to growing them in large quantities as a potential food source for rearing fish on a commercial scale.
The biographical sketch of Marcus in Oceanography Magazine details her transition from scientist to administrator and how, even though her days are now mostly consumed with administrative duties, she still continues to learn.
The magazine, published by the Oceanography Society, notes that progress has been made as the number of female graduate students now equals men, but that women are still behind in other areas of the field.
"This supplement provides an analytical perspective of the gains made by women oceanographers over the past 10 years and identifies areas where improvements are still needed" said Susan Lozier, a professor of ocean sciences at Duke University and president of The Oceanography Society. "Also included in this supplement is a multitude of personal stories that reveals the challenges, opportunities and rewards of a career in oceanography for women. I find these stories particularly inspiring."
Read the Women in Oceanography supplement here.