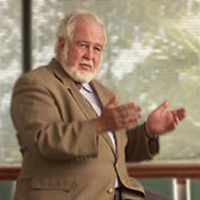 Do you know why El Niño forecasts are so important?
Robert O. Lawton Distinguished Professor James O'Brien, the guy that former Florida State University President Bernie Sliger referred to as "Dr. El Niño," sure does.
El Niño is defined by prolonged warming of sea surface temperatures in the Pacific Ocean. But researchers, including O'Brien, found over the years that those conditions often concoct the perfect storm of conditions for hurricanes and tornadoes.
In the mid 1980s, he was one of three scientists recruited by the National Oceanic and Atmospheric Administration to build models to predict when we were about to experience the weather phenomenon. And when most of his colleagues began looking at how that weather pattern affected South America and Asia, he turned his attention to the United States, churning out predictions of how many hurricanes and tornadoes the country might experience.
"I started out as an ocean modeler, putting math in the computer and then participating in building early prediction models," he said.
Because of his contributions to this field, O'Brien is being recognized as a fellow of the International Union of Geodesy and Geophysics, a global organization dedicated to advancing research of the Earth and its environment.
Franz Kuglitsch, executive secretary for the organization, said O'Brien received the honor for his exceptional contributions to "international cooperation in geoscience" and for having "attained eminence in the field of Earth and space sciences."
O'Brien, an accomplished meteorologist, has worked at Florida State for more than 40 years.
"I was honored and surprised by the award," O'Brien said.
O'Brien, who received his bachelor's degree from Rutgers University and his doctoral degree from Texas A&M University, is the retired director of the Center for Ocean-Atmospheric Prediction Studies (COAPS). He retired as the center's director in 2006, but remains actively involved in the university and in his field as a professor emeritus.
Eric Chassignet, O'Brien's successor at the COAPS, called his colleague a "dynamic force."
"His work on coastal upwelling, El Niño/La Niña, and climate variability have made lasting contributions," Chassignet said. "Not only is he known for his scientific work and his service to the community — he also has an impressive record of student mentorship. In recent years, he has worked to ensure that the next generation of scientists has the full set of skills necessary to move forward in their careers. It was his vision and relentless energy that led to the creation of COAPS, and we are grateful that even in retirement he continues to give his time and expertise to our center."
O'Brien will be presented with the award in July in Prague.