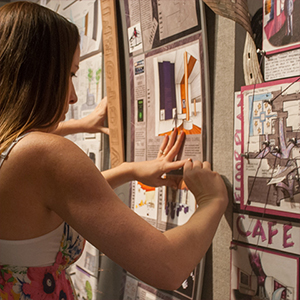 The best of the arts and sciences at Florida State University came together last week as students from the College of Visual Arts, Theatre and Dance's Department of Interior Design participated in a charette at the National High Magnetic Field Laboratory Sept. 29-Oct. 3.
The charette gave students an opportunity to create "a coordinated, innovative, modern and updated space to house hands-on science exhibits and reinforce the scientific and technological reputation of the MagLab." Students were charged with creating conceptual design iterations for the main lobby and public visitor areas that feature the high-tech and innovative research conducted at the MagLab.
Students were divided into 26 five-member teams with a mix of sophomores, juniors, seniors and graduate students in each group, which allowed older students to mentor the younger ones and encouraged working with different skill sets.
The MagLab provided the funds for the event, which was organized by interior design faculty members Tony Purvis and Steve Webber. At the kickoff event on Sept. 29, Gregory Boebinger, director of the MagLab, introduced students to the facility and its mission. Students then took a walking tour of the facility and met with Mk Haley, Disney Imagineer and FSU Entrepreneur in Residence, and Andy Welch, FSU facilities representative.
Teams submitted their final designs and group evaluations worksheets on Oct. 3. The drawings describe the concept and intent of the designs, and are displayed on the walls of the MagLab.
Faculty from the Department of Interior Design will judge the final projects on Oct. 17. While the purpose of the experience was purely academic, some of their concepts may actually be used during the MagLab renovation.
The National High Magnetic Field Laboratory is the highest power magnetic laboratory in the world. The mission is to operate a world-leading, high magnetic field user program while carrying out in-house research, maintaining facilities and developing new magnets and equipment to use them. The MagLab has a diverse audience, such as scientists, K-12 students, teachers, funding agencies and the general public.