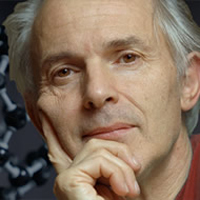 Nobel laureate and Florida State University Professor Sir Harold Kroto will host his annual "Opening Minds" lecture series this October to help spur creativity and scientific experimentation within the university and surrounding community.
The seven-lecture series kicks off on Oct. 1 with "Créativité Sans Frontières." In this opening lecture, Kroto will explore the creativity involved in some of the science that we interact with every day, and encourage attendees to examine their own creative insights.
For example, take the development of the iPhone.
"What kind of genius was involved in creating that kind of innovation," Kroto said. "I feel this is important to open people's eyes to this."
Kroto won the Nobel Prize for Chemistry in 1996 for his discovery of buckyballs, which are carbon molecules that are lightweight, but exceptionally strong. He came to Florida State University in 2004 after teaching for 37 years at the University of Sussex.
In addition to his research activities, Kroto gives public lectures worldwide on science and creativity. He also visits elementary and secondary schools to encourage children to pursue careers in the sciences.
All of the lectures are free and open to the public. They will take place on Wednesdays in the Askew Student Life Cinema.
The lectures are as follows:
"Créativité Sans Frontières," 5:30 p.m., Oct. 1: In the series' opening lecture, Kroto will explore aspects of the creative process across all artistic and scientific disciplines, showing that many aspects share commonality.Examples of outstanding creativity will be presented from art, film, music, science, architecture and humor. The aim is to inspire attendees to explore their own creative insights.
"Wine and Coca-Cola: Building a Great Venture on the Ashes of a Failure," 5:30 p.m., Oct. 8: Guest speaker Phillip Wyatt, chief executive officer of Wyatt Technologies, received his doctorate from Florida State in physics. Wyatt is an expert in laser light scattering and particle size measurement. He has been examining the unknown physical properties of molecules that make up just about everything, including soft drinks.
"C60Buckminsterfullerene: The Celestial Sphere that Fell to Earth," 5:30 p.m., Oct. 15:In this presentation, Kroto describes the discovery of the buckyball, a lightweight and strong molecule that is being used in a variety of new technologies. Diamond and graphite, the two other forms of carbon, have been known for a millennia, yet this third molecular form was discovered near the end of the 20th century.
Science, Society and Responsibility, 5:30 p.m., Oct. 22: Science has been a part of our everyday lives in the modern world. But for scientists, it has also caused some ethical conflicts. Kroto examines the ethical issues related to our dependence on technology.
"The Birth of Natural Philosophy and its Prodigal Son: Science," 5:30 p.m., Oct. 29:This lecture looks at the debate and events shaping the pioneers responsible for the birth of science.
"Across the Universe: Tales of Mystery and Imagination from the Fascinating World of Modern Physics," 5:30 p.m., Nov. 5: Guest speaker Mark Riley, a Robert O. Lawton Professor, describes recent physics advances from the discovery of the Higgs particle, commonly known as the God particle, plus the grand mysteries of dark matter and dark energy. Riley's presentation will provide insight into the excitement modern physicists feel about the universe's major puzzles.
"The Educational Revolution and the GooYouWiki World," 5:30 p.m., Nov. 12: The Internet is the second great revolution in education; the first was the invention of the printing press. Not only is information today almost instantaneously locatable and accessible, but anyone with expertise and a passion to communicate can contribute to the amazing, globally-accessible cache of knowledge.