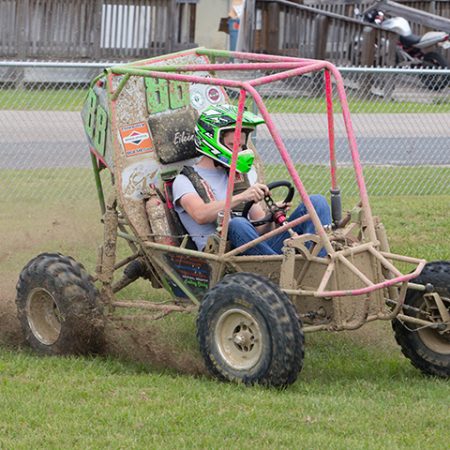 In the halls of the FAMU-FSU College of Engineering building sits a small off-road vehicle covered in dried mud.
The car is named Eileen, and it's the pride and joy of the FAMU-FSU Society of Automotive Engineers. The 12-member group spent hours assembling Eileen and took the car by trailer all the way to Peoria, Ill. for the 2014 Society of Auto Engineers baja competition, an event that tested the vehicle's ability to accelerate, climb hills and maneuver over rough terrains, including rocks.
They walked away with their best finish ever, finishing 46th out of 99 teams. Their previous best placement was 75th.
"It's the best car we've ever built," said Yoel Bugin, a senior mechanical engineering major who served as the racing team captain. "It's completely open for students to design and create and implement whatever they wish within reason. All teams have to run the same 10-horsepower Briggs & Stratton engine. The competition essentially becomes about how well we're able to build around that platform, how good our designs are and how those will hold up to real-life testing."
Students competed in Peoria in early June, but only recently saw the final results from the competition. A tabulation error forced competition organizers to go back and rescore the student teams.
The group, which has existed at the engineering college since 1991, spends most of its year building a car to compete in competitions sponsored by the national Society of Automotive Engineers. Each team starts with a 10-horsepower Intek Model 20 engine donated by Briggs & Stratton Corporation, valued at $628.
The rest of the vehicle's design is up to the students.
So, for the past year, students worked on all the elements that go into the making of a car. They tested out steering capabilities and tires. They designed brake lines and decided where and how to fuel the vehicle. They also picked bright pink and green colors so it would stand out even if covered in mud, and named her Eileen because the vehicle leaned to the left when they first began building it.
And on race day, driver Ralph Scott, who graduated in May, took the car through 20 laps around the course, for a total of two hours and 15 minutes.
Scott, who called the experience "nerve wracking," said he'd always been interested in off-road racing, but he joined the group mostly to get the experience of building the vehicle.
"I feel this is a lot of real world experience for us," he said. "You're using everything you've learned in school to create something."
The skills learned in their engineering classes weren't the only ones they had to put to the test though.
The group also had to polish up its business development know-how. Members learned how to raise money from industry sponsors and how to budget the $20,000 they raised to cover supplies, travel and competition fees.
Alex Mankin, who also graduated in May, functioned as both the lead designer of the vehicle's rear suspension and the treasurer for the group, so he felt extra pressure to make sure they picked the right parts that wouldn't make them go over budget.
"When you're first trying to come up with a design, the possibilities are endless, so you have to run through your head and you're nervous about if the design is even going to work," Mankin said. "It's really on you to make the thing correct or something could go wrong with the car. It could perform badly, so you have to go step by step through the whole process."
Though Mankin and Scott are moving on, their work will still help the group as it goes into the 2014-2015 academic year.
The SAE competition allows vehicles to be used in competition for two years. So, the group will fix problems they had with Eileen in Peoria and race her again next year. There were some problems with the steering and it wasn't a particularly comfortable ride for driver Scott.
Forrest Misler, who will serve as president of the group for the upcoming academic year, said they are hoping to raise additional funds so they can take the car to two competitions per year.
They will also begin work on what's called a formula car, the type of racing vehicle that is used at the Indy 500 or the Monaco Grand Prix. That goal, Misler hopes, will attract more industry interest because it provides real-life training for students to take into the job market.
"The companies really like to invest in these kinds of organizations, and we hope that many companies invest in us this year considering our tremendous improvement," Misler said.
This year's team was sponsored by Exxon Mobil, Cummins Inc., All About Scooters & Motorcycles, Schafer Industries, CVTech, Admiral Broach, Ferguson, GMH, Scott Burnett Inc-Mechanical Contractors, SolidWorks, Briggs and Stratton General Sheet Metal, Feeling Sticky, Florida Center for Advanced Aero-Propulsion and the FAMU-FSU College of Engineering.