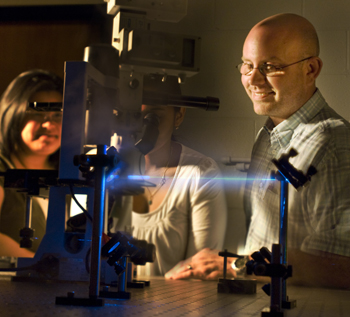 A Florida State University chemistry professor is being recognized for major work in bioanalytical research.
Michael Roper, associate professor of chemistry, received the Award for Young Investigators in Separation Science from the American Chemical Society, a national award that recognizes outstanding research by chemists who are in the early stages of their career.
"It's quite an honor," Roper said. "The people who've won in the past are people I've looked up to."
Roper's work focuses on separating and examining peptides from the pancreas that are responsible for regulating glucose. When these peptides aren't released correctly, you can get diabetes.
"Diabetes is just a huge problem and continues to grow," Roper said. "And there's still a lot we don't know. If we can learn about normal peptide secretion, we can figure out what's going wrong when it becomes abnormal."
Roper received the honor in Chicago earlier this month along with a $2,000 award and $500 travel stipend for the conference.
He is the second Florida State professor to win the award since its inception in 2004. Andre Striegel, who since left the university, was the first.
Alan Marshall, director of the Ion Cyclotron Resonance Program at Florida State, said the award is just a preview of the accolades he expects his colleague to collect in the future.
"In Mike's award address, he described two recent major advances in his field:(a) His ten-fold increase in speed of analyzing DNA for forensic and biomedical applications; and (b) his "lab-on-a-chip" experiments to explore the mechanism of pancreatic cells in diabetes," Marshall said. "This latest award is a harbinger of others to follow as he continues to push the frontiers of chemical separations."