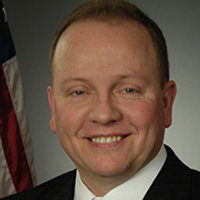 Florida State University has named Roger D. McGinnis Sr. the new director of the Center for Advanced Power Systems (CAPS), an innovative research center that is working to develop next generation power systems.
"I am delighted to announce this appointment, " said Gary K. Ostrander, Florida State's vice president for Research. "Dr. McGinnishas a long history of providing leadership for scientific and engineering programs. He is the perfect choice to lead CAPS into the future."
McGinnis, who received his doctorate in physics from the Naval Postgraduate School in Monterrey, Calif., is a retired U.S. Navy captain who has held key positions in the Office of Naval Sea Systems Command, the Office of Naval Research (ONR) and the Department of Homeland Security.
In his latest position as the program executive officer for innovative naval prototypes, McGinnis oversaw many large-scale research priorities for the ONR, including the production and use of high energy lasers, high-power microwaves, and electromagnetic launch systems that will be part of future Navy ships and aircraft.
The ONR partners with many research institutions around the country to develop new technology to solve problems facing the Navy, including CAPS.
"For the past 14 years I have been working on systems that will require large amounts of electrical energy and power, more than is readily available on ships today," McGinnis said. "Now that I am coming to CAPS, I get to work on the technologies, components and systems that will solve these increased energy demands and help lead to new advances in the capabilities of future vessels."
CAPS has built a unique facility with highly skilled researchers, scientists and faculty engineers recruited from around the world.
"I was most impressed with the caliber of the staff at CAPS," McGinnis said. "It's extremely well respected in the research community."
In addition to testing the feasibility of an all-electric ship, CAPS researchers are also working on new aircraft and space systems, power semiconductors and new control technologies.
McGinnis said his future plans center on expanding the research efforts of CAPS to other non-Department of Defense federal agencies and the private sector.
McGinnis replaces Steinar Dale, who retires this March after 11 years as the center's director.