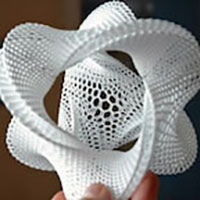 New organs and artificial limbs. Intricate architectural models. Customized jewelry. Unimaginable artistic creations. Each of these objects seems very different, but trace them back to their roots and you might be surprised to find some very common DNA.
These objects can be created using 3D printing, the subject of "Stacking Layers," a conference at Florida State University Feb. 25-26.
"There are a lot of misunderstandings about what 3D printing is, including whether or not it involves plastic glasses and something to do with movies," said Gary K. Ostrander, Florida State's vice president for research.
"These misunderstandings are one of the main reasons that we decided to put together an event that could simultaneously teach 3D printing beginners the basics while inspiring seasoned users to reach new heights of creativity."
The two-day conference, at the Augustus B. Turnbull III Florida State Conference Center, 555 W. Pensacola St., brings some of the nation's top 3D printing experts to Florida State to increase public awareness of, and explore new ways to use the technology in research, business and everyday life.
3D printing, at its most basic level, involves the use of a machine that "prints" three-dimensional images by stacking layers of material on top of one another.
The conference's exhibition hall will feature some of the newest and most innovative projects coming out of the 3D printing world. Find registration information online at www.stackinglayers.fsu.edu/register.html.
Entrance to the exhibition hall is free and open to all. Additionally, presentations will be streamed live online and accessible on-demand after the conference.
The conference is the brainchild of William Sweeney, a special adviser to Ostrander and the FSU Office of Research.
Sweeney and his partners from across the university envision the event as a way to involve people with the technology who might be unfamiliar with it, or who may have only explored a small portion of what it can offer.
"This printing technology has been around for a while, but people's imaginations, the materials used to print objects and the 3D printers themselves have only now started to reach a point where science fiction is becoming reality," Sweeney said.
"My hope is that this conference will help inspire a new generation of 3D printing users, and that these people will push this technology further then anyone could have ever imagined," he said.
Right now, 3D printers are not common in homes, but some companies such as Office Depot are selling small ones for about $1,300. These smaller ones can be used to make toys, gadgets and other items.
"You get to a point where you can print out plastic forks and knives, a doorstopper," said Ken Baldauf, director of FSU's Program in Interdisciplinary Computing and a member of the conference's planning committee.
Larger printers can be used to make just about anything. Medical researchers are looking at new capabilities with organ tissue and cells to see if one day, new organs can be completely manufactured. Other researchers are trying to build homes with giant 3D printers.
"It's surprising how many people haven't yet heard of it," Baldauf said of 3D printing. "This will be a great opportunity for people to be introduced to it."
To learn more about the conference, exhibit hall schedules and web-streaming details, visit Stacking Layers.