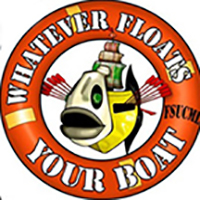 Florida State University's Coastal and Marine Laboratory is inviting nautical enthusiasts from across the Big Bend area to employ their creative and environmental abilities in the second annual Whatever Floats Your Boat Regatta from noon to 5 p.m. Oct. 12.
The overall challenge of the regatta is to create and race a homemade "boat" from a list of approved recyclable materials that is both visually interesting and, at least initially, can float. The first annual regatta included boats made entirely out of materials such as aluminum cans and plastic bottles and featured boat shapes ranging from canoes to giant sea turtles.
"In between researching the effects of the 2010 Gulf oil spill and furthering our knowledge of the marine ecosystems we rely on, we like to let our hair down a bit and have some fun with the community," said Felicia Coleman, director of the Coastal and Marine Laboratory. "Last year's regatta was a blast, filled with laughter, fun and a few boats that just didn't seem to want to stay upright. I can't wait to see what our participants have in store for us this year.
With race objectives and prizes aimed more at staying afloat than being the fastest to the finish line, fun and laughter are the themes of the day. Prize categories for regatta participants include the following:
Most creative use of materials
First boat to cross the finish line
Most spectacular failure
People's Choice award
The regatta will take place noon to 5 p.m. Saturday, Oct. 5, at the FSU Coastal and Marine Laboratory, 3618 Coastal Highway 98, St. Teresa, Fla.
For those more inclined to keep their feet planted on dry land, the race will be fully visible from various shoreline vantage points around the Marine Lab and the nearby boat basin. Other festivities surrounding the regatta include live music and food for purchase from Posey's Steam Room and Oyster Bar.
To register for the regatta and learn more about the event, visit http://marinelab.fsu.edu/outreach/regatta.html.