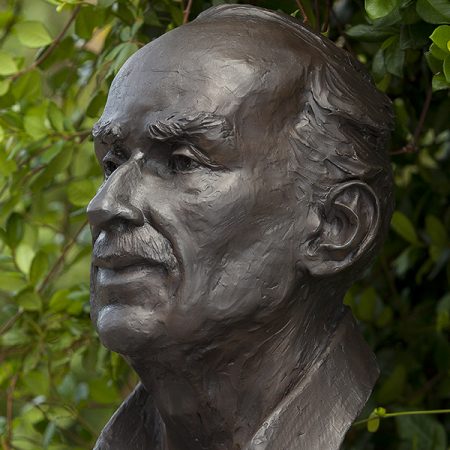 Florida State University's collection of the papers of Nobel Prize winner Paul A.M. Dirac — the father of modern physics — has grown after his daughter, Monica Dirac, donated additional materials that will provide researchers further insight into the scope of Dirac's life and work.
Dirac served on the Florida State physics faculty from 1972 until his death in 1984. The new materials, most of which are from the early part of Dirac's career, consist of family documents and professional papers, including letters, postcards, travel books, souvenirs, brochures, published materials, conference and event information, financial statements and legal documents.
"This is a fantastic addition to an already remarkable collection," said Katie McCormick, associate dean for Special Collections and Archives at FSU Libraries. "The addition of such rich correspondence regarding Dirac's early career and his family adds new perspective on his life and his work. Paul Dirac is one of the most important physicists and scientists in history. FSU Libraries has thoroughly enjoyed working with Monica Dirac to bring this part of the collection to Florida State."
The new items will be added to the existing collection, which contains over 190 linear feet of family papers, student papers, photographs, professional papers, certificates, regalia, sound recordings, office collections of books and journals and administrative information.
The collection is held by Florida State University Libraries' Special Collections and Archives Division.
Dirac rose to prominence rapidly after earning his doctorate in quantum mechanics from St. John's College at Cambridge in 1926. Within the next six years, Dirac became a fellow at St. John's College, the Praelector in Mathematical Physics, a fellow of the Royal Society, and the Lucasian Professor of Mathematics at Cambridge. He published "Quantum Theory of the Electron" in 1928, and "The Principles of Quantum Mechanics" in 1930.
In 1933, he won the Nobel Prize in physics with Erwin Schrodinger for "the discovery of new productive forms of atomic theory." As the Nobel Lecture describes, Dirac's famous wave equation "introduced special relativity into Schrodinger's equation." The Nobel statement continues, "taking into account the fact that, mathematically speaking, relativity theory and quantum theory are not only distinct from each other, but also oppose each other, Dirac's work could be considered a fruitful reconciliation between the two theories."
Dirac spent much of his career traveling and lecturing in Europe, Asia and North America, interrupted only by his work during World War II. Some documents from his work during the war years are not yet declassified. After retiring from his position at Cambridge in 1969, Dirac accepted an appointment at Florida State in 1972, where he continued active research, teaching and travel until his death in October 1984.
Dirac's legacy lives on as students and faculty work in the Dirac Science Library and pass by his statue on campus. Despite being world-renowned for his work in physics, Dirac led a "rather opaque life," according to Graham Farmelo, author of "The Strangest Man: The Hidden Life of Paul Dirac." With the addition of these personal and professional papers to FSU Libraries' Special Collections, researchers, biographers and scholars will have new avenues of insight into Dirac's mind and work.
TheSpecial Collections and Archives Division of the Florida State University Librariessupports and advances research, teaching and engagement by acquiring, preserving and providing access to collections of original manuscripts, rare books and university archives for use by students, faculty and researchers worldwide.