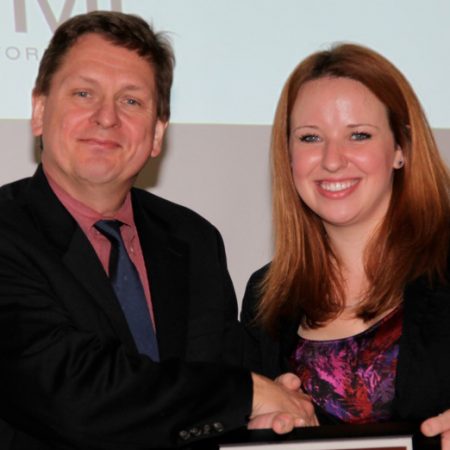 Rebekah Downes, a doctoral student in industrial and manufacturing engineering at the FAMU-FSU College of Engineering and a research assistant for the FSU High-Performance Materials Institute (HPMI), has been named as the 2013 Cytec Engineered Materials Doctoral Fellow for Advanced Composite Studies.
Downes is currently developing ways to make super-strong lightweight materials by manipulating carbon nanotubes in new and unique ways. Carbon nanotubes are on the cutting edge of materials science, with the potential to significantly improve the performance of current technology used in applications such as combat armor, sports gear and even, theoretically, the creation of space elevators.
"I'm honored to have been chosen for this fellowship and excited to be a part of this important partnership with Cytec," Downes said. "They have considerable expertise in advanced materials and chemistry, and being able to combine that with HPMI's engineering prowess and my mathematical knowledge will lead to some fantastic discoveries. The development of new high performance materials is crucial to our nation's continued competitiveness in a rapidly growing space age economy and I'm looking forward to what we are going to accomplish together."
Downes received two bachelor's degrees in 2011 from the University of North Florida — a Bachelor's of Science degree (with honors) in mathematics and a Bachelor's of Arts degree (with honors) in economics. She began her doctoral studies at Florida State University in industrial and manufacturing engineering in 2011.
"Rebekah is not only a talented researcher and engineer, but also an advocate for materials research in general," Zhiyong "Richard" Liang, director of HPMI, said. "She frequently volunteers her time to promote the importance of materials research through student outreach and other volunteer opportunities and is the perfect candidate to assume this fellowship."
The Cytec Engineered Materials Doctoral Fellowship for Advanced Composite Studies was established through a multi-year partnership between HPMI and Cytec to help realize the benefits of advanced composite technologies at a more rapid pace.
HPMI is a multidisciplinary research center that strives to recruit, develop and retain top quality faculty and staff who will maintain HPMI as a center of excellence for research and education in the field of advanced materials. Cytec Industries Inc. is a global specialty chemicals and materials company. Cytec Engineered Materials is a global provider of technologically advanced material solutions for aerospace and high-performance industrial products.
For more information on a full range of research and graduate education programs in materials synthesis, characterization and applications that are offered at FSU, visit http://www.research.fsu.edu/mse/.
###