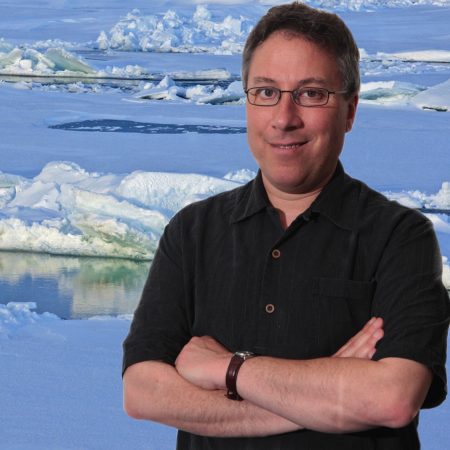 Florida State University geography Professor Philip Steinberg is conducting in-depth research into the geopolitics and sovereignty of the Arctic at the University of London after receiving a prestigious Marie Curie International Incoming Fellowship.
The fellowship, which is funded by the European Union and carries an award of 223,038 euros (approximately $288,000), will enable Steinberg to follow up on previous research carried out by a three-university team initiated by him and funded by the U.S. National Science Foundation.
The fellowship program brings non-European scientists to European universities for up to two years to work full time on research projects, with the goal of creating synergistic and long-lasting relationships between European and non-European researchers.
Steinberg has been based in the Department of Geography at Royal Holloway, University of London, since mid-May and will continue his research there until December 2013.
The research project, "Global Alternatives for an Interconnected Arctic" (GAIA), seeks to understand how debates concerning Arctic governance are in fact influenced by different perceptions of the region's geophysical and geographical characteristics.
"A number of fundamental questions about what the Arctic is underlie questions of how it should be governed," Steinberg said. "Is the Arctic understood as primarily a region of land, water, or ice; a distant or near region; an uninhabitable, uninhabited but habitable, or already inhabited region?
"How one answers these questions," he said, "has an effect on whether one favors a governance regime that, for instance, simply extends coastal state territory out into the region, or that places governance within the United Nations' Convention on the Law of the Sea, or that gives indigenous peoples a significant voice in governance, or that transfers governance to an international body."
Steinberg is cataloging a wide range of Arctic governance proposals that have been floated by local, national and global policymakers. Through a mix of interviews and documentary research, he will tease out the geophysical understandings and assumptions that underpin those proposals.
"The research is driven by the belief that a better understanding of how and why policymakers base their proposals for Arctic governance on perceptions of the region's geophysical conditions should enable us to reach compromise and consensus in the future," Steinberg said. "The benefits will thus reach beyond the Arctic to other regions whose physical properties make it difficult to apply the usual categories that underpin territorial governance in the modern state system."
Steinberg is working particularly closely with Professor Klaus Dodds of the Royal Holloway Department of Geography, also an expert in polar geopolitics. More broadly, Steinberg's presence will contribute to the department's growing expertise in the intersection of geopolitics, cultural and historical geography, as well as the Geopolitics and Security MSc (master's degree) program that began at Royal Holloway this fall.
Steinberg has been a member of the Florida State faculty since 1997. In addition to his ongoing research and teaching responsibilities, he has served in several key roles at the university, including director of the Social Science and Public Affairs Living-Learning Community (2006-2011), co-director of the Inter-American Seas Research Consortium (2011 to present), and assistant director of the Center for Environmental Media Production and Research (2010 to present).
In addition, he currently serves as reviews editor of the journal Political Geography and serves on the editorial boards of the Island Studies Journal and the Journal of the Indian OceanRegion. His influential book "The Social Construction of the Ocean" was published in 2001 by Cambridge University Press.
For more on Steinberg's research, email him at steinbergphil@gmail.com or psteinbe@coss.fsu.edu.