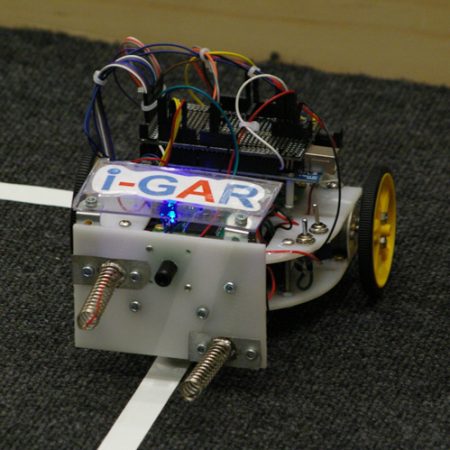 A team of five students from the Florida A&M University-Florida State University College of Engineering recently won the Student Hardware Competition at the 2012 IEEE SoutheastCon, a conference of the Institute of Electrical and Electronics Engineers held in Orlando, Fla.
The students — Keenan Barnes, John Bevis, Raquel Cain, Diego Flores and Heather Luidhardt — created a small robot, nicknamed i-GAR, which successfully navigated a course guided by electrical measurements.
The team, under the direction of Florida State electrical and computer engineering Associate Professor Bruce Harvey, beat more than 50 other teams from around the southeastern United States and Jamaica, which comprise the IEEE Region 3.
The i-GAR robot competed in three preliminary rounds and a winner-take-all final round of the top eight competitors from the preliminary rounds. In every round, i-GAR completed 11 laps by correctly interpreting every station on the course.
To see i-GAR in action at the IEEE SoutheastCon, click here.