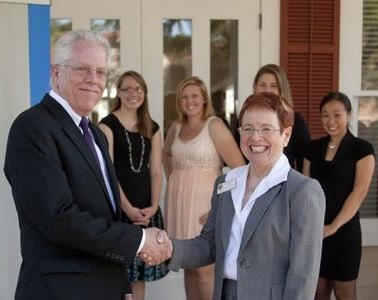 A Florida State University program that is helping to address the state and nation's critical shortage of math and science teachers has received an important boost from one of the nation's top supporters of education.
FSU-Teach, an innovative program that enables mathematics and science majors at Florida State to explore new career possibilities in the teaching profession, received a $50,000, targeted donation from banking giant JP Morgan Chase. With the money, FSU-Teach will establish an "induction" program to provide continued mentoring and other support for its new graduates as they pursue their teaching careers.
"A chronic problem in the education field is that young teachers aren't retained; an alarming number leave the profession before they've had five years in the classroom," said FSU-Teach co-director Ellen Granger, a faculty member in the College of Arts and Sciences. "However, educational research has shown that continued support for new teachers, both in the classroom and outside it, during their first three years not only helps improve their teaching skills but also helps keep them in the profession.
"That's what makes this donation so critical to the success of our program," Granger said.
College of Education Dean Marcy Driscoll was joined by JP Morgan Chase executives Daniel McNamara and Richard Mahler during an announcement of the gift at a reception for graduating FSU-Teach students April 26. Joining them was Lynn Gibson, a representative of the National Math and Science Initiative (NMSI), a nonprofit organization that has played a critical role in the establishment of FSU-Teach and programs like it at universities around the country.
"We're very excited and we're very thankful to JP Morgan Chase for all of your support, and to NMSI for all of your support," Driscoll told her guests.
McNamara expressed his excitement at the accomplishments already being seen by FSU-Teach.
"It's a thrill for me, with children of my own, to come to Florida State and see the work that the Chase dollars really are able to do with NMSI," he said, adding that the company has long viewed education as a top priority. "Chase has made more than $300 million in charitable contributions since 1985 in the field of education, so we certainly understand and appreciate the importance of education to our nation's success."
This is the fourth year of FSU-Teach's existence, which began with freshman courses and has added an additional year of courses annually since then. Thus, some of FSU-Teach's first students to participate in the program from start to finish received their diplomas during the university's spring commencement ceremonies. They were on hand during the gift presentation at the FSU Alumni Center.
Ashley Lui, a senior from Kissimmee, Fla., was one of the graduating students, having earned a double major in biochemistry and the FSU-Teach degree program. She credited the program with helping her to identify a profession that would be a good fit for her.
"I didn't really think about what career I wanted to pursue until my sophomore year," Lui said. "I probably wouldn't have become a teacher had the program not existed — I wasn't really sure what I wanted to do."
"The great thing about FSU-Teach was that they helped to 'mold' me — to prepare me for a career as a science teacher —but they also gave me the freedom to develop my own teaching style and find out what works best for me."
Another graduating student, Suzanna Lawson, also found the program valuable in helping her reach her goals.
"I knew I wanted to be a teacher since I was 12 years old," said Lawson, a math major from Merritt Island, Fla. "But FSU-Teach made it much easier to achieve my goal. Without it, the process of becoming certified to teach would have been a lot more difficult. At the same time, FSU-Teach helped me improve my math skills because the academic requirements are very rigorous.
This year, the program produced its first graduates — 26 of them — said FSU-Teach co-director Sherry Southerland, a faculty member in the College of Education. Next year, FSU-Teach is expected to produce between 35 and 40 graduates.
"This will almost double what our former science and mathematics education courses graduated each year," Southerland said. "If we count the number of unique students in the program — meaning each student is counted only once, no matter how many FSU-Teach courses he or she is currently enrolled in — we are right at about 200 students. So we're really starting to see some tangible results of our efforts to produce more math and science teachers as well as ensuring that these teachers are better prepared for the realities of the classroom."
The program will make an enormous contribution to the state, said NMSI's Gibson.
"The math and science teachers that FSU-Teach helps place in Florida classrooms will support the math and science learning of thousands of students for many years to come," she said.