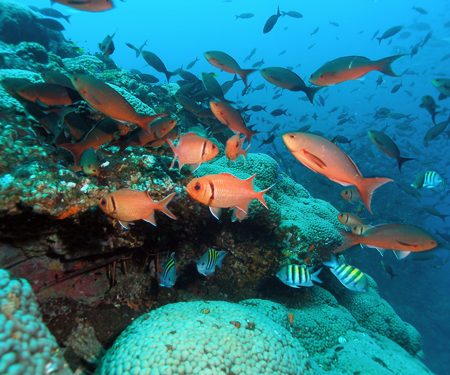 Florida State University will host a symposium on Thursday, Dec. 8, that will launch an ambitious, interdisciplinary research initiative uniquely designed to address the ecological, economic and cultural challenges facing the Inter-American Seas and the deficit of research aimed at solving them.
Reducing that research deficit is the mission of the newly formed Inter-American Seas Research Consortium (ISRC), and it is a critical one. That's because intensifying usage of the waters in the vital region — formed by the Gulf of Mexico, Caribbean Sea and southeast U.S. Continental Shelf — is both enabling and threatening coastal development, fisheries, hydrocarbon extraction, transportation opportunities and tourism.
The ISRC will assemble a team of Florida State experts in the biological, physical and social sciences, geography, history, law and business who will examine complex cultural, economic, legal, political and social issues at the same table with core scientific study of the climate, environment and ocean.
It's all about "problem-solving research" — to be generated by complementary collaborations among FSU researchers and with scholars and institutions around the state, region and world. The consortium's goals: promote regional sustainable use, conservation-oriented public policy and risk-averse management.
The collaborative, problem-solving research will begin at the ISRC kickoff symposium that will be held on the FSU campus:
THURSDAY, DEC. 8
8:30 A.M. TO 5:30 P.M.
FSU ALUMNI CENTER
1030 W. TENNESSEE ST.
TALLAHASSEE, FLA.
Featuring eminent speakers and roundtable discussions, the symposium will showcase the three interrelated areas on which the ISRC will focus: coastal and marine science; societies, cultures and connections; and law, risk and governance.
Access driving directions here and a campus map here. While Dec. 8 participants have been asked to register in advance, the $20 registration fee, which includes a continental breakfast, lunch and afternoon hors d'oeuvres, can be paid on the day of the event. Visit the ISRC website here to access complete symposium details.
To learn more about the Inter-American Seas Research Consortium and its kickoff symposium, contact:
Partners in the ISRC are the Florida State University colleges of Arts and Sciences; Law; Business; and Social Sciences and Public Policy. Also on board are FSU's Coastal and Marine Laboratory; Center for Ocean-Atmosphere Prediction Studies; and Center for Global Engagement. Among those who will lead the consortium's research are marine biologists, geologists, meteorologists, geographers, cultural historians, economists, urban and regional planners, and legal experts on ocean and coastal management. In addition, FSU undergraduate and graduate students will have opportunities to contribute to the ongoing research.
6 December 2011