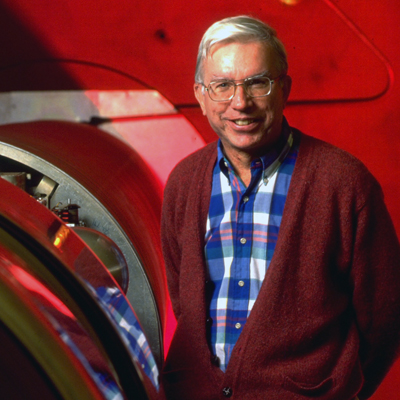 For the past eight years, Kirby W. Kemper has been best known to many in the Florida State University community as the university's vice president for Research. What they may not know is that while performing those administrative duties, he has maintained his laboratory and continued to conduct nuclear physics research in FSU's Department of Physics, where he first arrived as a postdoctoral researcher in 1968.
It is for those four decades as an outstanding teacher and researcher that Kemper has been chosen by his peers for a prestigious honor: The Southeastern Section of the American Physical Society has selected him to receive its 2010 Francis G. Slack Award, given for "excellence in service to physics in the Southeast."
"I am extremely humbled by this recognition," Kemper said of the award. "Not many people get to spend their entire career doing something they love, so I'm one of the fortunate few. Working with students, both in the classroom and in the lab, has always been an extraordinarily rewarding experience for me. Being honored by my colleagues in this manner is simply icing on the cake."
The Francis G. Slack Award is named for a distinguished Vanderbilt University scientist who was a charter member of the Southeastern Section of the American Physical Society and who contributed significantly to its development. The award recognizes those who have worked unselfishly to:
bring about significant new research facilities in the southeastern United States;
significantly strengthen and raise the stature of physics departments in the region;
provide significant leadership and work to strengthen and build the Southeastern Section of the American Physical Society; Sigma Pi Sigma, The Physics Honor Society; the Society of Physics Students; and other regional organizations;
develop physics consortia of universities and/or research institutions that have benefited the Southeast and the nation; and
carry out other service and administrative activities such as organizing major conferences held in the region, as well as international exchanges and public outreach to K-12 students.
"Kirby is someone who has worked tirelessly for the good of physics in our region (and nationally too), and his impact has been truly extraordinary on many levels throughout his long and outstanding career," said Mark Riley, FSU's Raymond K. Sheline Professor of Physics and chair of the Department of Physics. "His is a rare record indeed, and 'unselfish' is a most apt description of his life in the service of physics.
"There is no doubt he has been a huge influence in raising the stature of FSU
physics throughout the past four decades," Riley said.
A nuclear physicist by training, Kemper served as chairman of the physics department from 1997 to 2003. He joined the physics faculty at FSU in 1968, three months after receiving his Ph.D. from Indiana University.
In 2002, Kemper was awarded the ultimate accolade of his fellow academics at Florida State, being named a Robert O. Lawton Distinguished Professor. In nominating him for the honor, Nobel Laureate Robert Schrieffer, former chief scientist of the National High Magnetic Field Laboratory, described Kemper as "a highly distinguished nuclear physicist with an outstanding worldwide reputation."
In the laboratory, Kemper has been recognized numerous times for his groundbreaking research. His current interests are in the study of nuclear polarization phenomena, as well as the use of radioactive beams to probe nuclear structure far from stability. He has more than 260 refereed publications to his credit.
In the classroom, meanwhile, Kemper is known for his devotion to undergraduate teaching and graduate training — he directed the physics department's graduate education program for six years in the 1980s — as well as for an "infectious enthusiasm" that has won him praise from three generations of students. In addition, he has worked for many years to explain the importance of scientific research to the general public.
The Francis G. Slack Award will be presented to Kemper at the Southeastern Section of the American Physical Society's annual meeting, scheduled for Oct. 20-23 in Baton Rouge, La.