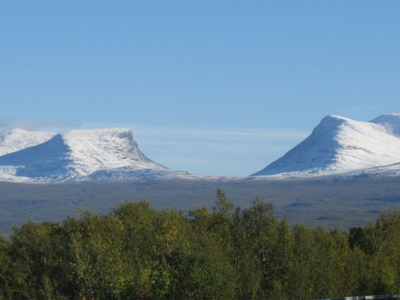 Florida State University oceanographer Jeff Chanton is part of an international team embarking on a new study of permafrost decomposition in arctic Sweden. What he and his fellow researchers discover there may be critical given the permafrost's key role in climate change, and vice versa.
It is all part of an ominous feedback loop, Chanton says.
The warming climate is causing the Swedish permafrost to thaw and decompose and, as it does, the greenhouse gases carbon dioxide and methane are released into the atmosphere, creating a feedback loop of further warming temperatures and accelerating permafrost's decomposition.
"There are 1,672 gigatons of carbon stored in the permafrost as soil and peat organic matter," Chanton said. "To put that quantity in perspective, it is three times the amount of carbon found in our atmosphere, which contains 550 gigatons in the form of carbon dioxide. What will happen if all the permafrost thaws, releasing its gigantic store of carbon into the atmosphere? Will the respiration of that decomposing organic matter by bacteria produce not only carbon dioxide but also methane, a greenhouse gas 25 times more potent?
"We know that increasing carbon dioxide and methane in the atmosphere creates a positive feedback to global warming," he said. "Our new study will shed vital additional light on how the thawing affects the atmosphere, which affects warming, and how the thawing of the permafrost affects the organic carbon stored there."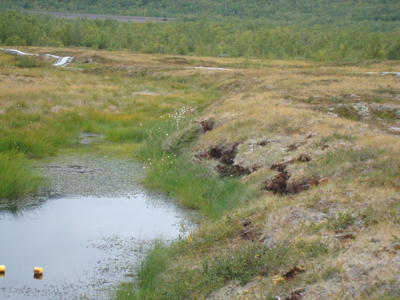 A three-year, $2.8 million grant from the U.S. Department of Energy will fund the collaborative investigation, to be undertaken by researchers from five universities on three continents. University of Arizona scientists are leading the team, which includes Florida State's Chanton and research colleagues at the universities of New Hampshire, Stockholm (Sweden), and Queensland (Australia).
Chanton will receive a $300,000 share of the DOE grant. He also has a part of a larger share of the award that will be used to purchase lasers and other field instruments for the entire team.
The study will periodically find Chanton north of the Arctic Circle, where he kicked off his research in August near Abisco, Sweden, amid the mosquitoes and black flies typical of the arctic summer there. While this is his first foray into Sweden's remote arctic realms, Chanton is no stranger to permafrost research. His previous studies focused on Alaska and Siberia.
Chanton is a faculty member in Florida State University's Department of Earth, Ocean and Atmospheric Science (EOAS), where he holds the dual titles of Winchester Professor of Oceanography and Distinguished Research Professor. Visit the EOAS website at www.eoas.fsu.edu to learn more about the cutting-edge research under way there.