One of The Florida State University's most distinguished faculty members has received what is perhaps his biggest professional honor yet from his peers.
Naresh S. Dalal, the university's Dirac Professor of Chemistry and Biochemistry, has been elevated to the rank of fellow by the American Chemical Society (ACS), the world's largest member-driven scientific organization. ACS fellows, which constitute just 0.2 percent of the society's overall membership, must demonstrate sustained excellence in the sciences or a related profession and have provided outstanding service to the ACS.
Dalal's fellowship certificate will be presented in a special ceremony at the 240th ACS National Meeting in Boston later this month.
"I am deeply honored and humbled that my peers have found my contributions worthy of inclusion in such a prestigious group," Dalal said. "Of course, there is no way I can lay sole claim to this honor. The many colleagues, graduate students and postdoctoral researchers with whom I have collaborated over the years, as well as the constant support I have received since coming to FSU in 1995, have all made my job so much easier — and deeply rewarding."
For more than three decades, Dalal has conducted research in a broad range of areas using a type of chemical analysis known as magnetic resonance spectroscopy. His work has contributed greatly to fundamental knowledge about electricity and magnetism, and has potentially major applications in such areas as medical imaging and the development of new, solid-state devices. Dalal has written or cowritten approximately 400 papers on his research for peer-reviewed journals; these have been cited by other researchers more than 7,000 times — a remarkable measure of his influence within the field.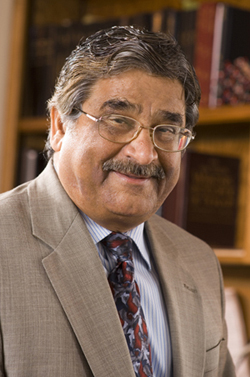 He becomes the second ACS fellow from Florida State. Alan Marshall, Florida State's Robert O. Lawton Professor of Chemistry and Biochemistry, was named to the inaugural class of ACS fellows in 2009.
Marshall spoke highly of his longtime colleague and his many accomplishments.
"This award crowns Professor Dalal's growing list of recognitions for his pioneering research spanning the full range of magnetic resonance spectroscopy, ranging from identification of highly reactive free radicals in coal (leading to a coal-processing treatment to prevent coal miner's pneumoconiosis) to his most recent discovery of materials that are both ferromagnetic and ferroelectric (with implications for solid-state electronics devices)," he said.
"The ACS honor is not just for research — it requires high-level service to the chemistry community, and recognizes Professor Dalal's prior service as chairman of Florida State's Department of Chemistry and Biochemistry, as well as his organization of many regional and national symposia and conferences," Marshall said. "Naresh continues to distinguish himself and FSU, and we are delighted to see him join the exclusive ranks of American Chemical Society fellows."
The ACS recognition caps Dalal's rapidly accumulating recent honors. Among them:
Earlier this year he was awarded the International Electron Paramagnetic Resonance Society's Silver Medal for Physics/Materials Science, becoming just the seventh person to receive the award.
In 2007 he received the Southern Chemist Award from the Memphis Section of the American Chemical Society. The award recognizes "an outstanding researcher who has brought recognition to the South," specifically the states of Alabama, Arkansas, Florida, Georgia, Louisiana, Mississippi, North Carolina, South Carolina, Tennessee and Virginia.
Also in 2007, he was presented with the Florida Award, recognizing him as one of the top scholars in his field in the southeastern United States, by the Florida Section of the ACS.
In 2003 he was designated a Distinguished Research Professor, which recognizes outstanding research and/or creative activity at Florida State.
He was named a fellow of the American Physical Society in 2000.
"This is yet further clear confirmation that we have in Professor Dalal one of the leading scientists in the United States, and that the quality of chemistry at FSU is going from strength to strength," said Sir Harold Kroto, the university's Francis Eppes Professor of Chemistry and a co-recipient of the 1996 Nobel Prize in Chemistry.
With more than 161,000 members, the American Chemical Society is one of the world's leading sources of authoritative scientific information.