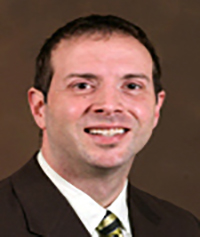 The sky's the limit for three Florida State University meteorology students who have won prestigious scholarships from the National Oceanic and Atmospheric Administration (NOAA) Ernest F. Hollings Scholarship Program.
Daniel Gilford, Chad Robin and Carrie Roller, all sophomores, are among just 121 students across the nation to receive the scholarships for students majoring in disciplines related to oceanographic and atmospheric science.
The Hollings Scholarship Program provides academic assistance of up to $8,000 per academic year for the junior and senior years as well as full-time, paid summer internships with a NOAA agency in between the junior and senior years. The scholarship program also provides travel funds to attend the Hollings Scholarship Program orientation in May, conferences, and a housing subsidy for students who don't live at home during their summer internship.
"The Hollings Scholarship will provide all three of our students the opportunity to really explore career and educational opportunities in the atmospheric and oceanographic sciences," said D. Craig Filar, director of the Office of National Fellowships at FSU. "Their success with this award is a reflection of the high caliber of our program and the students and faculty at Florida State University."
Gilford, 21, of Clearwater, Fla., said the Hollings Scholarship will provide him with research opportunities that will help him as he pursues his goal of earning a doctoral degree. He has a double major in meteorology and applied mathematics.
"I really enjoy teaching mathematics and researching meteorology, so ideally I would love to one day have my Ph.D. and work as a professor at a university conducting research and teaching mathematics," he said. "I just have a real passion for the world of numbers, and I love reaching those moments of understanding in my majors. I would love to instill that passion in the next generation."
Robin, a 20-year-old from New Orleans who has a double major in meteorology and geography, said winning a Hollings Scholarship will give him financial stability for the next two years and invaluable internship experience that he can use for the rest of his career.
"I plan to attend graduate school to further explore and learn new ways to study meteorological events and the effects they have on the physical world around us," Robin said. "This passion is driven by my desire to contribute relevant information to the scientific community, eventually benefiting the community at large."
Roller, 20, of Melbourne, Fla., is majoring in meteorology and is considering going to graduate school as she pursues her career goal of becoming a certified TV meteorologist for a major network affiliate.
"I believe the internship will open a lot of doors for me in terms of getting started in the field and will allow me to get hands-on experience working as a meteorologist," she said. "I am hopeful that the experience will serve as a stepping stone toward reaching my ultimate career goals."
The Ernest F. Hollings Undergraduate Scholarship Program was established in 2005 to honor retiring Sen. Ernest F. Hollings of South Carolina.