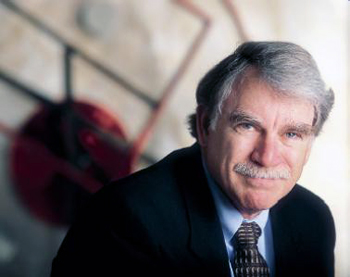 One of Florida State University's most influential scientists has received the latest in an ever-growing list of prestigious awards.
Alan G. Marshall, the Robert O. Lawton Professor of Chemistry and Biochemistry at Florida State and director of the Ion Cyclotron Resonance Program at the National High Magnetic Field Laboratory, has been named the co-recipient of the 2009 New Frontiers in Hydrocarbons Award, sponsored by Eni, an Italian energy company.
The prize recognizes "internationally significant results in the development of technologies for the efficient use of hydrocarbons with particular reference to the activities of exploration, production, transport, distribution and transformation." It consists of a gold medal specially minted by Italy's Zecco di Stato (State Mint) and a monetary award in the amount of 300,000 euros (about $409,000).
"I am staggered and delighted by the news," Marshall said of being selected for the prize. "Recognition at this level is always a surprise, because there are so many worthy candidates. Although the work cited is relatively recent, it represents the end result of efforts dating back to 1973. That's especially satisfying.
"I'd like to add that (associate scholar/scientist) Ryan Rodgers of the magnet lab has had a leading role in our petroleum research," he said.
Marshall was cited for his research group's development of "petroleomics," an entirely new branch of chemistry that seeks to predict the properties and behavior of petroleum and its products. Using an incredibly precise analytical technique co-invented by Marshall that is known as Fourier transform ion cyclotron resonance mass spectrometry, his team has been able to simultaneously separate and identify thousands of separate chemical constituents within a single crude oil sample. In so doing, they have compiled the largest database of petroleum compounds in the world — priceless information for some of the world's richest companies.
"Crude oil is probably the most complex naturally occurring substance there is," Marshall said. "And to make things even more complicated, all crude oil isn't the same. A sample extracted from Saudi Arabia, for example, might have a dramatically different chemical composition from one taken from the Gulf of Mexico. Oil companies need to be able to quickly and accurately analyze crude oil samples to determine whether they're drilling in the most appropriate locations.
"Petroleum refiners, meanwhile, need to know exactly what types of acids and other corrosive compounds are mixed in with each batch of oil so that they can develop processes to remove them," he said. "Otherwise, a refinery that was built to last for 30 years might be rusted through in only 18 months, as we've seen happen."
In 2008, Marshall and magnet lab colleagues signed an agreement with a California-based company, Sierra Analytics (www.MassSpec.com), which will sell state-of-the-art software to petroleum companies. With this software, the companies will benefit from research that has made Florida State the best in the world at understanding petroleum.
To read more about Marshall's petroleomics research, visit this link.
Sharing the New Frontiers in Hydrocarbons Award with Marshall is Professor Antonin Settari of the University of Calgary, Canada. Settari was cited for his work in developing innovative techniques for simulating phenomena that occur during hydrocarbon extraction.